AXEL Lite SOM/AXEL Lite Hardware/Pinout Table
History
ID#
Issue Date
Notes
18/12/2020
New documentation layout
17/11/2021
More details about BOOT_MODE_SEL signal
26/11/2021
Voltage domains legend added. Fixed the "Type" field of ETH0_LED1 and ETH0_LED2.
Connectors and Pinout Table
[
edit
|
edit source
]
In the following table are described all available connectors integrated on AXEL Lite SOM:
| Connector name | Connector Type | Notes | Carrier board counterpart |
| --- | --- | --- | --- |
| J1 | SODIMM DDR3 edge connector 204 pin | | TE Connectivity 2-2013289-1 |
The dedicated carrier board must mount the mating connector and connect the desired peripheral interfaces according to AXEL Lite pinout specifications. See the images below for reference: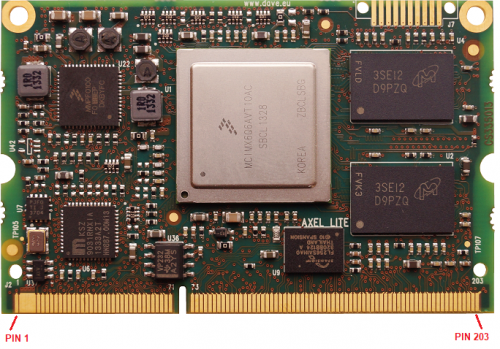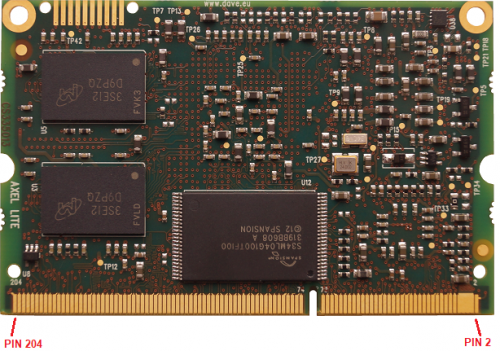 Pinout table naming conventions
[
edit
|
edit source
]
This chapter contains the pinout description of the AXEL Lite SOM module, grouped in two tables (odd and even pins) that report the pin mapping of the 204-pin SO-DIMM connector.
Each row in the pinout tables contains the following information:
Pin
Reference to the connector pin
Pin Name
Pin (signal) name on the AxelLite connectors
Internal
connections
Connections to the components

CPU.<x> : pin connected to CPU pad named <x>
CAN.<x> : pin connected to the CAN transceiver (TI SN65HVD232)
PMIC.<x> : pin connected to the Power Manager IC (NXP MMPF0100)
LAN.<x> : pin connected to the LAN PHY (Microchip KSZ9031)
NOR.<x>: pin connected to the flash NOR
SV.<x>: pin connected to voltage supervisor
MTR: pin connected to voltage monitors

Ball/pin #
Component ball/pin number connected to signal
Voltage domain
The voltage domain the pin belongs to
Type
Pin type:

I = Input
O = Output
D = Differential
Z = High impedance
S = Power supply voltage
G = Ground
A = Analog signal

Notes
Remarks on special pin characteristics
Pin MUX alternative functions
Muxes:

Pin ALT-0
Pin ALT-1
Pin ALT-2
Pin ALT-3
Pin ALT-4
Pin ALT-5
Pin ALT-6
Pin ALT-7
Pin ALT-8
SODIMM ODD pins declaration
[
edit
|
edit source
]
Pin
Pin Name
Internal Connections
Ball/pin #
Voltage

domain

Type
Notes
Alternative Functions
J2.1
DGND
DGND
-
-
G
J2.3
3.3VIN
INPUT VOLTAGE
-
3.3VIN
S
J2.5
3.3VIN
INPUT VOLTAGE
-
3.3VIN
S
J2.7
3.3VIN
INPUT VOLTAGE
-
3.3VIN
S
J2.9
3.3VIN
INPUT VOLTAGE
-
3.3VIN
S
J2.11
DGND
DGND
-
-
G
J2.13
ETH0_LED1
LAN.LED1/PME_N1
17
VCC_ENET_1V8
O
Internal 10k pull-up to 1.8V

This signal requires voltage level shifters if used at 3.3V

J2.15
ETH0_LED2
LAN.LED2
15
VCC_ENET_1V8
O
Internal 10k pull-up to 1.8V

This signal requires voltage level shifters if used at 3.3V

J2.17
DGND
DGND
-
-
G
J2.19
ETH0_TXRX0_P
LAN.TXRXP_A
2
AXEL_IO_3V3
D
J2.21
ETH0_TXRX0_M
LAN.TXRXM_A
3
AXEL_IO_3V3
D
J2.23
ETH0_TXRX1_P
LAN.TXRXP_B
5
AXEL_IO_3V3
D
J2.25
ETH0_TXRX1_M
LAN.TXRXM_B
6
AXEL_IO_3V3
D
J2.27
ETH0_TXRX2_P
LAN.TXRXP_C
7
AXEL_IO_3V3
D
J2.29
ETH0_TXRX2_M
LAN.TXRXM_C
8
AXEL_IO_3V3
D
J2.31
ETH0_TXRX3_P
LAN.TXRXP_D
10
AXEL_IO_3V3
D
J2.33
ETH0_TXRX3_M
LAN.TXRXM_D
11
AXEL_IO_3V3
D
J2.35
DGND
DGND
-
-
G
J2.37
SD3_RST
CPU.SD3_RST
D15
AXEL_IO_3V3
IO
Pin ALT-0
SD3_RESET
Pin ALT-1
UART3_RTS_B
Pin ALT-5
GPIO7_IO08
J2.39
SD3_DATA0
CPU.SD3_DATA0
E14
AXEL_IO_3V3
IO
Pin ALT-0
SD3_DATA0
Pin ALT-1
UART1_CTS_B
Pin ALT-2
FLEXCAN2_TX
Pin ALT-5
GPIO7_IO04
J2.41
SD3_DATA1
CPU.SD3_DATA1
F14
AXEL_IO_3V3
IO
Pin ALT-0
SD3_DATA1
Pin ALT-1
UART1_RTS_B
Pin ALT-2
FLEXCAN2_RX
Pin ALT-5
GPIO7_IO05
J2.43
SD3_DATA2
CPU.SD3_DATA2
A15
AXEL_IO_3V3
IO
Pin ALT-0
SD3_DATA2
Pin ALT-5
GPIO7_IO06
J2.45
SD3_DATA3
CPU.SD3_DATA3
B15
AXEL_IO_3V3
IO
Pin ALT-0
SD3_DATA3
Pin ALT-1
UART3_CTS_B
Pin ALT-5
GPIO7_IO07
J2.47
SD3_DATA4
CPU.SD3_DATA4
D13
AXEL_IO_3V3
IO
Pin ALT-0
SD3_DATA4
Pin ALT-1
UART2_RX_DATA
Pin ALT-5
GPIO7_IO01
J2.49
SD3_DATA5
CPU.SD3_DATA5
C13
AXEL_IO_3V3
IO
Pin ALT-0
SD3_DATA5
Pin ALT-1
UART2_TX_DATA
Pin ALT-5
GPIO7_IO00
J2.51
SD3_DATA6
CPU.SD3_DATA6
E13
AXEL_IO_3V3
IO
Pin ALT-0
SD3_DATA6
Pin ALT-1
UART1_RX_DATA
Pin ALT-5
GPIO6_IO18
J2.53
SD3_DATA7
CPU.SD3_DATA7
F13
AXEL_IO_3V3
IO
Pin ALT-0
SD3_DATA7
Pin ALT-1
UART1_TX_DATA
Pin ALT-5
GPIO6_IO17
J2.55
SD3_CMD
CPU.SD3_CMD
B13
AXEL_IO_3V3
IO
Pin ALT-0
SD3_CMD
Pin ALT-1
UART2_CTS_B
Pin ALT-2
FLEXCAN1_TX
Pin ALT-5
GPIO7_IO02
J2.57
DGND
DGND
-
-
G
J2.59
SD3_CLK
CPU.SD3_CLK
D14
AXEL_IO_3V3
IO
Pin ALT-0
SD3_CLK
Pin ALT-1
UART2_RTS_B
Pin ALT-2
UART2_RTS_B
Pin ALT-5
GPIO7_IO03
J2.61
SD2_DATA0
CPU.SD2_DATA0
A22
AXEL_IO_3V3
IO
Pin ALT-0
SD2_DATA0
Pin ALT-1
ECSPI5_MISO
Pin ALT-3
AUD4_RXD
Pin ALT-4
KEY_ROW7
Pin ALT-5
GPIO1_IO15
Pin ALT-6
DCIC2_OUT
J2.63
SD2_DATA1
CPU.SD2_DATA1
E20
AXEL_IO_3V3
IO
Pin ALT-0
SD2_DATA1
Pin ALT-1
ECSPI5_SS0
Pin ALT-2
EIM_CS2
Pin ALT-3
AUD4_TXFS
Pin ALT-4
KEY_COL7
Pin ALT-5
GPIO1_IO14
J2.65
SD2_DATA2
CPU.SD2_DATA2
A23
AXEL_IO_3V3
IO
Pin ALT-0
SD2_DATA2
Pin ALT-1
ECSPI5_SS1
Pin ALT-2
EIM_CS3
Pin ALT-3
AUD4_TXD
Pin ALT-4
KEY_ROW6
Pin ALT-5
GPIO1_IO13
J2.67
SD2_DATA3
CPU.SD2_DATA3
B22
AXEL_IO_3V3
IO
Pin ALT-0
SD2_DATA3
Pin ALT-1
ECSPI5_SS3
Pin ALT-2
ECSPI5_SS3
Pin ALT-3
AUD4_TXC
Pin ALT-5
GPIO1_IO12
J2.69
SD2_CMD
CPU.SD2_CMD
F19
AXEL_IO_3V3
IO
Pin ALT-0
SD2_CMD
Pin ALT-1
ECSPI5_MOSI
Pin ALT-2
KEY_ROW5
Pin ALT-3
AUD4_RXC
Pin ALT-5
GPIO1_IO11
J2.71
SD2_CLK
CPU.SD2_CLK
C21
AXEL_IO_3V3
IO
Pin ALT-0
SD2_CLK
Pin ALT-1
ECSPI5_SCLK
Pin ALT-2
KEY_COL5
Pin ALT-3
AUD4_RXFS
Pin ALT-5
GPIO1_IO10
J2.73
DGND
DGND
-
-
G
J2.75
SD1_DAT0
CPU.SD1_DAT0
A21
AXEL_IO_3V3
IO
Pin ALT-0
SD1_DATA0
Pin ALT-1
ECSPI5_MISO
Pin ALT-2
GPT_CAPTURE1
Pin ALT-5
GPIO1_IO16
J2.77
SD1_DAT1
CPU.SD1_DAT1
C20
AXEL_IO_3V3
IO
Pin ALT-0
SD1_DATA1
Pin ALT-1
ECSPI5_SS0
Pin ALT-2
PWM3_OUT
Pin ALT-3
GPT_CAPTURE2
Pin ALT-5
GPIO1_IO17
J2.79
SD1_DAT2
CPU.SD1_DAT2
E19
AXEL_IO_3V3
IO
Pin ALT-0
SD1_DATA2
Pin ALT-1
ECSPI5_SS1
Pin ALT-2
GPT_COMPARE2
Pin ALT-3
PWM2_OUT
Pin ALT-4
WDOG1_B
Pin ALT-5
GPIO1_IO19
Pin ALT-6
WDOG1_RESET_B_DEB
J2.81
SD1_DAT3
CPU.SD1_DAT3
F18
AXEL_IO_3V3
IO
Pin ALT-0
SD1_DATA3
Pin ALT-1
ECSPI5_SS2
Pin ALT-2
GPT_COMPARE3
Pin ALT-3
PWM1_OUT
Pin ALT-4
WDOG2_B
Pin ALT-5
GPIO1_IO21
Pin ALT-6
WDOG2_RESET_B_DEB
J2.83
SD1_CMD
CPU.SD1_CMD
B21
AXEL_IO_3V3
IO
Pin ALT-0
SD1_CMD
Pin ALT-1
ECSPI5_MOSI
Pin ALT-2
PWM4_OUT
Pin ALT-3
GPT_COMPARE1
Pin ALT-5
GPIO1_IO18
J2.85
SD1_CLK
CPU.SD1_CLK
D20
AXEL_IO_3V3
IO
Pin ALT-0
SD1_CLK
Pin ALT-1
ECSPI5_SCLK
Pin ALT-3
GPT_CLKIN
Pin ALT-5
GPIO1_IO20
J2.87
DGND
DGND
-
-
G
J2.89
KEY_COL0/|ECSPI1_SCLK
CPU.KEY_COL0
W5
AXEL_IO_3V3
IO
Pin ALT-0
ECSPI1_SCLK
Pin ALT-1
ENET_RX_DATA3
Pin ALT-2
AUD5_TXC
Pin ALT-3
KEY_COL0
Pin ALT-4
UART4_TX_DATA
Pin ALT-5
GPIO4_IO06
Pin ALT-6
DCIC1_OUT
J2.91
KEY_ROW0/|ECSPI1_MOSI
CPU.KEY_ROW0
V6
AXEL_IO_3V3
IO
Pin ALT-0
ECSPI1_MOSI
Pin ALT-1
ENET_TX_DATA3
Pin ALT-2
AUD5_TXD
Pin ALT-3
KEY_ROW0
Pin ALT-4
UART4_RX_DATA
Pin ALT-5
GPIO4_IO07
Pin ALT-6
DCIC2_OUT
J2.93
KEY_COL1/|ECSPI1_MISO
CPU.KEY_COL1
U7
AXEL_IO_3V3
IO
Pin ALT-0
ECSPI1_MISO
Pin ALT-1
ENET_MDIO
Pin ALT-2
AUD5_TXFS
Pin ALT-3
KEY_COL1
Pin ALT-4
UART5_TX_DATA
Pin ALT-5
GPIO4_IO08
Pin ALT-6
SD1_VSELECT
J2.95
KEY_ROW1/|ECSPI1_SS0
CPU.KEY_ROW1
U6
AXEL_IO_3V3
IO
Pin ALT-0
ECSPI1_SS0
Pin ALT-1
ENET_COL
Pin ALT-2
AUD5_RXD
Pin ALT-3
KEY_ROW1
Pin ALT-4
UART5_RX_DATA
Pin ALT-5
GPIO4_IO09
Pin ALT-6
SD2_VSELECT
J2.97
KEY_COL2/|ECSPI1_SS1
CPU.KEY_COL2
W6
AXEL_IO_3V3
IO
Pin ALT-0
ECSPI1_SS1
Pin ALT-1
ENET_RX_DATA2
Pin ALT-2
FLEXCAN1_TX
Pin ALT-3
KEY_COL2
Pin ALT-4
ENET_MDC
Pin ALT-5
GPIO4_IO10
Pin ALT-6
USB_H1_PWR_CTL_WAKE
J2.99
KEY_ROW2
CPU.KEY_ROW2
W4
AXEL_IO_3V3
IO
Pin ALT-0
ECSPI1_SS2
Pin ALT-1
ENET_TX_DATA2
Pin ALT-2
FLEXCAN1_RX
Pin ALT-3
KEY_ROW2
Pin ALT-4
SD2_VSELECT
Pin ALT-5
GPIO4_IO11
Pin ALT-6
HDMI_TX_CEC_LINE
J2.101
KEY_COL3/|I2C2_SCL
CPU.KEY_COL3
U5
AXEL_IO_3V3
IO
Internally connected to PMIC I2C interface
Pin ALT-0
ECSPI1_SS3
Pin ALT-1
ENET_CRS
Pin ALT-3
HDMI_TX_DDC_SCL
Pin ALT-4
KEY_COL3
Pin ALT-4
I2C2_SCL
Pin ALT-5
GPIO4_IO12
Pin ALT-6
SPDIF_IN
J2.103
KEY_ROW3/|I2C2_SDA
CPU.KEY_ROW3
T7
AXEL_IO_3V3
IO
Internally connected to PMIC I2C interface
Pin ALT-1
ASRC_EXT_CLK
Pin ALT-2
HDMI_TX_DDC_SDA
Pin ALT-3
KEY_ROW3
Pin ALT-4
I2C2_SDA
Pin ALT-5
GPIO4_IO13
Pin ALT-6
SD1_VSELECT
J2.105
KEY_COL4
CPU.KEY_COL4
T6
AXEL_IO_3V3
IO
Pin ALT-0
FLEXCAN2_TX
Pin ALT-1
IPU1_SISG4
Pin ALT-2
USB_OTG_OC
Pin ALT-3
KEY_COL4
Pin ALT-4
UART5_RTS_B
Pin ALT-5
GPIO4_IO14
J2.107
KEY_ROW4
CPU.KEY_ROW4
V5
AXEL_IO_3V3
IO
Pin ALT-0
FLEXCAN2_RX
Pin ALT-1
IPU1_SISG5
Pin ALT-2
USB_OTG_PWR
Pin ALT-3
KEY_ROW4
Pin ALT-4
UART5_CTS_B
Pin ALT-5
GPIO4_IO15
J2.109
DGND
DGND
-
-
G
J2.111
HDMI_CLKN
CPU.HDMI_CLKN
J5
GEN_2V5
D
J2.113
HDMI_CLKP
CPU.HDMI_CLKP
J6
GEN_2V5
D
J2.115
HDMI_D0N
CPU.HDMI_D0N
K5
GEN_2V5
D
J2.117
HDMI_D0P
CPU.HDMI_D0P
K6
GEN_2V5
D
J2.119
HDMI_D1N
CPU.HDMI_D1N
J3
GEN_2V5
D
J2.121
HDMI_D1P
CPU.HDMI_D1P
J4
GEN_2V5
D
J2.123
HDMI_D2N
CPU.HDMI_D2N
K3
GEN_2V5
D
J2.125
HDMI_D2P
CPU.HDMI_D2P
K4
GEN_2V5
D
J2.127
HDMI_CEC_IN
CPU.HDMI_DDCCEC
K2
GEN_2V5
D
J2.129
HDMI_HPD
CPU.HDMI_HPD
K1
GEN_2V5
D
J2.131
DGND
DGND
-
-
G
J2.133
LVDS0_CLK_N
CPU.LVDS0_CLK_N
V4
GEN_2V5
D
J2.135
LVDS0_CLK_P
CPU.LVDS0_CLK_P
V3
GEN_2V5
D
J2.137
LVDS0_TX0_N
CPU.LVDS0_TX0_N
U2
GEN_2V5
D
J2.139
LVDS0_TX0_P
CPU.LVDS0_TX0_P
U1
GEN_2V5
D
J2.141
LVDS0_TX1_N
CPU.LVDS0_TX1_N
U4
GEN_2V5
D
J2.143
LVDS0_TX1_P
CPU.LVDS0_TX1_P
U3
GEN_2V5
D
J2.145
LVDS0_TX2_N
CPU.LVDS0_TX2_N
V2
GEN_2V5
D
J2.147
LVDS0_TX2_P
CPU.LVDS0_TX2_P
V1
GEN_2V5
D
J2.149
LVDS0_TX3_N
CPU.LVDS0_TX3_N
W2
GEN_2V5
D
J2.151
LVDS0_TX3_P
CPU.LVDS0_TX3_P
W1
GEN_2V5
D
J2.153
DGND
DGND
-
-
G
J2.155
LVDS1_CLK_N
CPU.LVDS1_CLK_N
Y3
GEN_2V5
D
J2.157
LVDS1_CLK_P
CPU.LVDS1_CLK_P
Y4
GEN_2V5
D
J2.159
LVDS1_TX0_N
CPU.LVDS1_TX0_N
Y1
GEN_2V5
D
J2.161
LVDS1_TX0_P
CPU.LVDS1_TX0_P
Y2
GEN_2V5
D
J2.163
LVDS1_TX1_N
CPU.LVDS1_TX1_N
AA2
GEN_2V5
D
J2.165
LVDS1_TX1_P
CPU.LVDS1_TX1_P
AA1
GEN_2V5
D
J2.167
LVDS1_TX2_N
CPU.LVDS1_TX2_N
AB1
GEN_2V5
D
J2.169
LVDS1_TX2_P
CPU.LVDS1_TX2_P
AB2
GEN_2V5
D
J2.171
LVDS1_TX3_N
CPU.LVDS1_TX3_N
AA3
GEN_2V5
D
J2.173
LVDS1_TX3_P
CPU.LVDS1_TX3_P
AA4
GEN_2V5
D
J2.175
DGND
DGND
-
-
G
J2.177
EIM_D19
CPU.EIM_D19
G21
AXEL_IO_3V3
IO
Pin ALT-0
ECSPI1_SS1
Pin ALT-1
IPU1_DI0_PIN08
Pin ALT-2
IPU2_CSI1_DATA16
Pin ALT-3
UART1_CTS_B
Pin ALT-4
GPIO3_IO19
Pin ALT-5
EPIT1_OUT
Pin ALT-7
EPDC_DATA12
J2.179
EIM_D20
CPU.EIM_D20
G20
AXEL_IO_3V3
IO
Pin ALT-0
ECSPI4_SS0
Pin ALT-1
IPU1_DI0_PIN16
Pin ALT-2
IPU2_CSI1_DATA15
Pin ALT-3
UART1_RTS_B
Pin ALT-4
GPIO3_IO20
Pin ALT-5
EPIT2_OUT
J2.181
EIM_D21
CPU.EIM_D21
H20
AXEL_IO_3V3
IO
Pin ALT-0
ECSPI4_SCLK
Pin ALT-1
IPU1_DI0_PIN17
Pin ALT-2
IPU2_CSI1_DATA11
Pin ALT-3
USB_OTG_OC
Pin ALT-4
GPIO3_IO21
Pin ALT-5
I2C1_SCL
Pin ALT-6
SPDIF_IN
J2.183
EIM_D22
CPU.EIM_D22
E23
AXEL_IO_3V3
IO
Pin ALT-0
ECSPI4_MISO
Pin ALT-1
IPU1_DI0_PIN01
Pin ALT-2
IPU2_CSI1_DATA10
Pin ALT-3
USB_OTG_PWR
Pin ALT-4
GPIO3_IO22
Pin ALT-5
SPDIF_OUT
Pin ALT-7
EPDC_SDCE6
J2.185
EIM_D23
CPU.EIM_D23
D25
AXEL_IO_3V3
IO
Pin ALT-0
IPU1_DI0_D0_CS
Pin ALT-1
UART3_CTS_B
Pin ALT-2
UART1_DCD_B
Pin ALT-3
IPU2_CSI1_DATA_EN
Pin ALT-4
GPIO3_IO23
Pin ALT-5
IPU1_DI1_PIN02
Pin ALT-6
IPU1_DI1_PIN14
Pin ALT-7
EPDC_DATA11
J2.187
EIM_D24
CPU.EIM_D24
F22
AXEL_IO_3V3
IO
Pin ALT-0
ECSPI4_SS2
Pin ALT-1
UART3_TX_DATA
Pin ALT-2
ECSPI1_SS2
Pin ALT-3
ECSPI2_SS2
Pin ALT-4
GPIO3_IO24
Pin ALT-5
AUD5_RXFS
Pin ALT-6
UART1_DTR_B
Pin ALT-7
EPDC_SDCE7
J2.189
EIM_D25
CPU.EIM_D25
G22
AXEL_IO_3V3
IO
Pin ALT-0
ECSPI4_SS3
Pin ALT-1
UART3_RX_DATA
Pin ALT-2
ECSPI1_SS3
Pin ALT-3
ECSPI2_SS3
Pin ALT-4
GPIO3_IO25
Pin ALT-5
AUD5_RXC
Pin ALT-6
UART1_DSR_B
Pin ALT-7
EPDC_SDCE8
J2.191
EIM_D26
CPU.EIM_D26
E24
AXEL_IO_3V3
IO
Pin ALT-0
IPU1_DI1_PIN11
Pin ALT-1
IPU1_CSI0_DATA01
Pin ALT-2
IPU2_CSI1_DATA14
Pin ALT-3
UART2_TX_DATA
Pin ALT-4
GPIO3_IO26
Pin ALT-5
IPU1_SISG2
Pin ALT-6
IPU1_DISP1_DATA22
Pin ALT-7
EPDC_SDOED
J2.193
EIM_D27
CPU.EIM_D27
E25
AXEL_IO_3V3
IO
Pin ALT-0
IPU1_DI1_PIN13
Pin ALT-1
IPU1_CSI0_DATA00
Pin ALT-2
IPU2_CSI1_DATA13
Pin ALT-3
UART2_RX_DATA
Pin ALT-4
GPIO3_IO27
Pin ALT-5
IPU1_SISG3
Pin ALT-6
IPU1_DISP1_DATA23
Pin ALT-7
EPDC_SDOE
J2.195
EIM_D28
CPU.EIM_D28
G23
AXEL_IO_3V3
IO
Pin ALT-0
I2C1_SDA
Pin ALT-1
ECSPI4_MOSI
Pin ALT-2
IPU2_CSI1_DATA12
Pin ALT-3
UART2_CTS_B
Pin ALT-4
GPIO3_IO28
Pin ALT-5
IPU1_EXT_TRIG
Pin ALT-6
IPU1_DI0_PIN13
Pin ALT-7
EPDC_PWR_CTRL3
J2.197
EIM_D29
CPU.EIM_D29
J19
AXEL_IO_3V3
IO
Pin ALT-0
IPU1_DI1_PIN15
Pin ALT-1
ECSPI4_SS0
Pin ALT-3
UART2_RTS_B
Pin ALT-4
GPIO3_IO29
Pin ALT-5
IPU2_CSI1_VSYNC
Pin ALT-6
IPU1_DI0_PIN14
Pin ALT-7
EPDC_PWR_WAKE
J2.199
EIM_D30
CPU.EIM_D30
J20
AXEL_IO_3V3
IO
Pin ALT-0
IPU1_DISP1_DATA21
Pin ALT-1
IPU1_DI0_PIN11
Pin ALT-2
IPU1_CSI0_DATA03
Pin ALT-3
UART3_CTS_B
Pin ALT-4
GPIO3_IO30
Pin ALT-5
USB_H1_OC
Pin ALT-7
EPDC_SDOEZ
J2.201
EIM_D31
CPU.EIM_D31
H21
AXEL_IO_3V3
IO
Pin ALT-0
IPU1_DISP1_DATA20
Pin ALT-1
IPU1_DI0_PIN12
Pin ALT-2
IPU1_CSI0_DATA02
Pin ALT-3
UART3_RTS_B
Pin ALT-4
GPIO3_IO31
Pin ALT-5
USB_H1_PWR
Pin ALT-7
EPDC_SDCLK_P
Pin ALT-8
EIM_ACLK_FREERUN
J2.203
DGND
DGND
-
-
G
SODIMM EVEN pins declaration
[
edit
|
edit source
]
Pin
Pin Name
Internal Connections
Ball/pin #
Voltage|domain
Type
Notes
Alternative Functions
J2.2
DGND
DGND
-
-
G
J2.4
3.3VIN
INPUT VOLTAGE
-
3.3VIN
S
J2.6
3.3VIN
INPUT VOLTAGE
-
3.3VIN
S
J2.8
3.3VIN
INPUT VOLTAGE
-
3.3VIN
S
J2.10
3.3VIN
INPUT VOLTAGE
-
3.3VIN
S
J2.12
DGND
DGND
-
-
G
J2.14
PMIC_LICELL
PMIC.LICELL
42

If this power supply is not used, the pin can be left open.
Even if this power supply is not used, NXP recommends to connect a capacitor. A 100nF capacitor is connected on the SoM.

J2.16
CPU_ONOFF
CPU.CPU_ONOFF
D12
J2.18
BOARD_PGOOD
-
-
J2.20
BOOT_MODE_SEL
BOOT MODE SELECTION
This is a pulled-up input. Leave unconnected to select "1". Connect to ground to select "0". For more details, please see also the following pages:
J2.22
CPU_PORn
CPU.CPU_PORn
C11
J2.24
PMIC_PWRON
PMIC.PWRON
56
J2.26
GPIO_0
CPU.GPIO_0
T5
AXEL_IO_3V3
IO
Pin ALT-0
CCM_CLKO1
Pin ALT-2
KEY_COL5
Pin ALT-3
ASRC_EXT_CLK
Pin ALT-5
GPIO1_IO00
Pin ALT-6
USB_H1_PWR
Pin ALT-7
SNVS_VIO_5
J2.28
GPIO_1
CPU.GPIO_1
T4
AXEL_IO_3V3
IO
Reset_scheme_and_control_signals#Handling_CPU-initiated_software_reset
Pin ALT-0
ESAI_RX_CLK
Pin ALT-1
WDOG2_B
Pin ALT-2
KEY_ROW5
Pin ALT-3
USB_OTG_ID
Pin ALT-4
PWM2_OUT
Pin ALT-5
GPIO1_IO01
Pin ALT-6
SD1_CD_B
J2.30
DGND
DGND
-
-
G
J2.32
GPIO_2
CPU.GPIO_2
T1
AXEL_IO_3V3
IO
Pin ALT-0
ESAI_TX_FS
Pin ALT-2
KEY_ROW6
Pin ALT-5
GPIO1_IO02
Pin ALT-6
SD2_WP
Pin ALT-7
MLB_DATA
J2.34
GPIO_3/I2C3_SCL
CPU.GPIO_3
R7
AXEL_IO_3V3
IO
Pin ALT-0
ESAI_RX_HF_CLK
Pin ALT-2
I2C3_SCL
Pin ALT-3
XTALOSC_REF_CLK_24M
Pin ALT-4
CCM_CLKO2
Pin ALT-5
GPIO1_IO03
Pin ALT-6
USB_H1_OC
Pin ALT-7
MLB_CLK
J2.36
GPIO_4
CPU.GPIO_4
R6
AXEL_IO_3V3
IO
Pin ALT-0
ESAI_TX_HF_CLK
Pin ALT-2
KEY_COL7
Pin ALT-5
GPIO1_IO04
Pin ALT-6
SD2_CD_B
J2.38
GPIO_5
CPU.GPIO_5
R4
AXEL_IO_3V3
IO
Pin ALT-0
ESAI_TX2_RX3
Pin ALT-2
KEY_ROW7
Pin ALT-3
CCM_CLKO1
Pin ALT-5
GPIO1_IO05
Pin ALT-6
I2C3_SCL
Pin ALT-7
ARM_EVENTI
J2.40
GPIO_6/I2C3_SDA
CPU.GPIO_6
T3
AXEL_IO_3V3
IO
Pin ALT-0
ESAI_TX_CLK
Pin ALT-2
I2C3_SDA
Pin ALT-5
GPIO1_IO06
Pin ALT-6
SD2_LCTL
Pin ALT-7
MLB_SIG
J2.42
GPIO_7//FLEXCAN1_H
CPU.GPIO_7
R3
AXEL_IO_3V3
IO
Hardware mounting option depending on order code|CAN_TX (PHY onboard) or GPIO_7
Pin ALT-0
ESAI_TX4_RX1
Pin ALT-1
ECSPI5_RDY
Pin ALT-2
EPIT1_OUT
Pin ALT-3
FLEXCAN1_TX
Pin ALT-4
UART2_TX_DATA
Pin ALT-5
GPIO1_IO07
Pin ALT-6
SPDIF_LOCK
Pin ALT-7
USB_OTG_HOST_MODE
Pin ALT-8
I2C4_SCL
J2.44
GPIO_8//FLEXCAN1_L
CPU.GPIO_8
R5
AXEL_IO_3V3
IO
Hardware mounting option depending on order code|CAN_RX (PHY onboard) or GPIO_8
Pin ALT-0
ESAI_TX5_RX0
Pin ALT-1
XTALOSC_REF_CLK_32K
Pin ALT-2
EPIT2_OUT
Pin ALT-3
FLEXCAN1_RX
Pin ALT-4
UART2_RX_DATA
Pin ALT-5
GPIO1_IO08
Pin ALT-6
SPDIF_SR_CLK
Pin ALT-7
USB_OTG_PWR_CTL_WAKE
Pin ALT-8
I2C4_SDA
J2.46
GPIO_9
CPU.GPIO_9
T2
AXEL_IO_3V3
IO
Pin ALT-0
ESAI_RX_FS
Pin ALT-1
WDOG1_B
Pin ALT-2
KEY_COL6
Pin ALT-3
CCM_REF_EN_B
Pin ALT-4
PWM1_OUT
Pin ALT-5
GPIO1_IO09
Pin ALT-6
SD1_WP
J2.48
GPIO_16
CPU.GPIO_16
R2
AXEL_IO_3V3
IO
Pin ALT-0
ESAI_TX3_RX2
Pin ALT-1
ENET_1588_EVENT2_IN
Pin ALT-2
ENET_REF_CLK
Pin ALT-4
SPDIF_IN
Pin ALT-5
GPIO7_IO11
Pin ALT-6
I2C3_SDA
Pin ALT-7
JTAG_DE_B
J2.50
GPIO_17
CPU.GPIO_17
R1
AXEL_IO_3V3
IO
Pin ALT-0
ESAI_TX0
Pin ALT-1
ENET_1588_EVENT3_IN
Pin ALT-2
CCM_PMIC_READY
Pin ALT-3
SDMA_EXT_EVENT0
Pin ALT-4
SPDIF_OUT
Pin ALT-5
GPIO7_IO12
J2.52
GPIO_18
CPU.GPIO_18
P6
AXEL_IO_3V3
IO
Pin ALT-0
ESAI_TX1
Pin ALT-1
ENET_RX_CLK
Pin ALT-2
SD3_VSELECT
Pin ALT-3
SDMA_EXT_EVENT1
Pin ALT-4
ASRC_EXT_CLK
Pin ALT-5
GPIO7_IO13
Pin ALT-6
SNVS_VIO_5_CTL
J2.54
GPIO_19
CPU.GPIO_19
P5
AXEL_IO_3V3
IO
Pin ALT-0
KEY_COL5
Pin ALT-1
ENET_1588_EVENT0_OUT
Pin ALT-2
SPDIF_OUT
Pin ALT-3
CCM_CLKO1
Pin ALT-4
ECSPI1_RDY
Pin ALT-5
GPIO4_IO05
Pin ALT-6
ENET_TX_ER
J2.56
DGND
DGND
-
-
G
J2.58
CSI0_PIXCLK
CPU.CSI0_PIXCLK
P1
AXEL_IO_3V3
IO
Pin ALT-0
IPU1_CSI0_PIXCLK
Pin ALT-5
GPIO5_IO18
Pin ALT-7
ARM_EVENTO
J2.60
CSI0_MCLK
CPU.CSI0_MCLK
P4
AXEL_IO_3V3
IO
Pin ALT-0
IPU1_CSI0_HSYNC
Pin ALT-3
CCM_CLKO1
Pin ALT-5
GPIO5_IO19
Pin ALT-7
ARM_TRACE_CTL
J2.62
CSI0_VSYNC
CPU.CSI0_VSYNC
N2
AXEL_IO_3V3
IO
Pin ALT-0
IPU1_CSI0_VSYNC
Pin ALT-1
EIM_DATA01
Pin ALT-5
GPIO5_IO21
Pin ALT-7
ARM_TRACE00
J2.64
CSI0_DATA_EN
CPU.CSI0_DATA_EN
P3
AXEL_IO_3V3
IO
Pin ALT-0
IPU1_CSI0_DATA_EN
Pin ALT-1
EIM_DATA00
Pin ALT-5
GPIO5_IO20
Pin ALT-7
ARM_TRACE_CLK
J2.66
CSI0_DAT4
CPU.CSI0_DAT4
N1
AXEL_IO_3V3
IO
Pin ALT-0
IPU1_CSI0_DATA04
Pin ALT-1
EIM_DATA02
Pin ALT-2
ECSPI1_SCLK
Pin ALT-3
KEY_COL5
Pin ALT-4
AUD3_TXC
Pin ALT-5
GPIO5_IO22
Pin ALT-7
ARM_TRACE01
J2.68
CSI0_DAT5
CPU.CSI0_DAT5
P2
AXEL_IO_3V3
IO
Pin ALT-0
IPU1_CSI0_DATA05
Pin ALT-1
EIM_DATA03
Pin ALT-2
ECSPI1_MOSI
Pin ALT-3
KEY_ROW5
Pin ALT-4
AUD3_TXD
Pin ALT-5
GPIO5_IO23
Pin ALT-7
ARM_TRACE02
J2.70
CSI0_DAT6
CPU.CSI0_DAT6
N4
AXEL_IO_3V3
IO
Pin ALT-0
IPU1_CSI0_DATA06
Pin ALT-1
EIM_DATA04
Pin ALT-2
ECSPI1_MISO
Pin ALT-3
KEY_COL6
Pin ALT-4
AUD3_TXFS
Pin ALT-5
GPIO5_IO24
Pin ALT-7
ARM_TRACE03
J2.72
CSI0_DAT7
CPU.CSI0_DAT7
N3
AXEL_IO_3V3
IO
Pin ALT-0
IPU1_CSI0_DATA07
Pin ALT-1
EIM_DATA05
Pin ALT-2
ECSPI1_SS0
Pin ALT-3
KEY_ROW6
Pin ALT-4
AUD3_RXD
Pin ALT-5
GPIO5_IO25
Pin ALT-7
ARM_TRACE04
J2.74
CSI0_DAT8
CPU.CSI0_DAT8
N6
AXEL_IO_3V3
IO
Pin ALT-0
IPU1_CSI0_DATA08
Pin ALT-1
EIM_DATA06
Pin ALT-2
ECSPI2_SCLK
Pin ALT-3
KEY_COL7
Pin ALT-4
I2C1_SDA
Pin ALT-5
GPIO5_IO26
Pin ALT-7
ARM_TRACE05
J2.76
CSI0_DAT9
CPU.CSI0_DAT9
N5
AXEL_IO_3V3
IO
Pin ALT-0
IPU1_CSI0_DATA09
Pin ALT-1
EIM_DATA07
Pin ALT-2
ECSPI2_MOSI
Pin ALT-3
KEY_ROW7
Pin ALT-4
I2C1_SCL
Pin ALT-5
GPIO5_IO27
Pin ALT-7
ARM_TRACE06
J2.78
CSI0_DAT10
CPU.CSI0_DAT10
M1
AXEL_IO_3V3
IO
Pin ALT-0
IPU1_CSI0_DATA10
Pin ALT-1
AUD3_RXC
Pin ALT-2
ECSPI2_MISO
Pin ALT-3
UART1_TX_DATA
Pin ALT-5
GPIO5_IO28
Pin ALT-7
ARM_TRACE07
J2.80
CSI0_DAT11
CPU.CSI0_DAT11
M3
AXEL_IO_3V3
IO
Pin ALT-0
IPU1_CSI0_DATA11
Pin ALT-1
AUD3_RXFS
Pin ALT-2
ECSPI2_SS0
Pin ALT-3
UART1_RX_DATA
Pin ALT-5
GPIO5_IO29
Pin ALT-7
ARM_TRACE08
J2.82
DGND
DGND
-
-
G
J2.84
CLK1_N
CPU.CLK1_N
C7
GEN_2V5
D
J2.86
CLK1_P
CPU.CLK1_P
D7
GEN_2V5
D
J2.88
CLK2_N
CPU.CLK2_N
C5
GEN_2V5
D
J2.90
CLK2_P
CPU.CLK2_P
D5
GEN_2V5
D
J2.92
PCIE_RXN
CPU.PCIE_RXN
B1
GEN_2V5
D
J2.94
PCIE_RXP
CPU.PCIE_RXP
B2
GEN_2V5
D
J2.96
PCIE_TXN
CPU.PCIE_TXN
A3
GEN_2V5
D
J2.98
PCIE_TXP
CPU.PCIE_TXP
B3
GEN_2V5
D
J2.100
DGND
DGND
-
-
G
J2.102
CSI_CLK0M
CPU.CSI_CLK0M
F4
GEN_2V5
D
J2.104
CSI_CLK0P
CPU.CSI_CLK0P
F3
GEN_2V5
D
J2.106
CSI_D0M
CPU.CSI_D0M
E4
GEN_2V5
D
J2.108
CSI_D0P
CPU.CSI_D0P
E3
GEN_2V5
D
J2.110
CSI_D1M
CPU.CSI_D1M
D1
GEN_2V5
D
J2.112
CSI_D1P
CPU.CSI_D1P
D2
GEN_2V5
D
J2.114
CSI_D2M
CPU.CSI_D2M
E1
GEN_2V5
D
J2.116
CSI_D2P
CPU.CSI_D2P
E2
GEN_2V5
D
J2.118
CSI_D3M
CPU.CSI_D3M
F2
GEN_2V5
D
J2.120
CSI_D3P
CPU.CSI_D3P
F1
GEN_2V5
D
J2.122
DGND
DGND
-
-
G
J2.124
DI0_PIN15
CPU.DI0_PIN15
N21
AXEL_IO_3V3
IO
Pin ALT-0
IPU1_DI0_PIN15
Pin ALT-1
IPU2_DI0_PIN15
Pin ALT-2
AUD6_TXC
Pin ALT-5
GPIO4_IO17
J2.126
DI0_PIN4
CPU.DI0_PIN4
P25
AXEL_IO_3V3
IO
Pin ALT-0
IPU1_DI0_PIN04
Pin ALT-1
IPU2_DI0_PIN04
Pin ALT-2
AUD6_RXD
Pin ALT-5
GPIO4_IO20
J2.128
DI0_PIN3
CPU.DI0_PIN3
N20
AXEL_IO_3V3
IO
Pin ALT-0
IPU1_DI0_PIN03
Pin ALT-1
IPU2_DI0_PIN03
Pin ALT-2
AUD6_TXFS
Pin ALT-5
GPIO4_IO19
J2.130
DI0_PIN2
CPU.DI0_PIN2
N25
AXEL_IO_3V3
IO
Pin ALT-0
IPU1_DI0_PIN02
Pin ALT-1
IPU2_DI0_PIN02
Pin ALT-2
AUD6_TXD
Pin ALT-5
GPIO4_IO18
J2.132
DI0_DISP_CLK
CPU.DI0_DISP_CLK
N19
AXEL_IO_3V3
IO
Pin ALT-0
IPU1_DI0_DISP_CLK
Pin ALT-1
IPU2_DI0_DISP_CLK
Pin ALT-5
GPIO4_IO16
J2.134
DISP0_DAT0
CPU.DISP0_DAT0
P24
AXEL_IO_3V3
IO
Pin ALT-0
IPU1_DISP0_DATA00
Pin ALT-1
IPU2_DISP0_DATA00
Pin ALT-2
ECSPI3_SCLK
Pin ALT-5
GPIO4_IO21
J2.136
DISP0_DAT1
CPU.DISP0_DAT1
P22
AXEL_IO_3V3
IO
Pin ALT-0
IPU1_DISP0_DATA01
Pin ALT-1
IPU2_DISP0_DATA01
Pin ALT-2
ECSPI3_MOSI
Pin ALT-5
GPIO4_IO22
J2.138
DISP0_DAT2
CPU.DISP0_DAT2
P23
AXEL_IO_3V3
IO
Pin ALT-0
IPU1_DISP0_DATA02
Pin ALT-1
IPU2_DISP0_DATA02
Pin ALT-2
ECSPI3_MISO
Pin ALT-5
GPIO4_IO23
J2.140
DISP0_DAT3
CPU.DISP0_DAT3
P21
AXEL_IO_3V3
IO
Pin ALT-0
IPU1_DISP0_DATA03
Pin ALT-1
IPU2_DISP0_DATA03
Pin ALT-2
ECSPI3_SS0
Pin ALT-5
GPIO4_IO24
J2.142
DISP0_DAT4
CPU.DISP0_DAT4
P20
AXEL_IO_3V3
IO
Pin ALT-0
IPU1_DISP0_DATA04
Pin ALT-1
IPU2_DISP0_DATA04
Pin ALT-2
ECSPI3_SS1
Pin ALT-5
GPIO4_IO25
J2.144
DISP0_DAT5
CPU.DISP0_DAT5
P24
AXEL_IO_3V3
IO
Pin ALT-0
IPU1_DISP0_DATA05
Pin ALT-1
IPU2_DISP0_DATA05
Pin ALT-2
ECSPI3_SS2
Pin ALT-3
AUD6_RXFS
Pin ALT-5
GPIO4_IO26
J2.146
DGND
DGND
-
-
G
J2.148
DISP0_DAT6
CPU.DISP0_DAT6
R23
AXEL_IO_3V3
IO
Pin ALT-0
IPU1_DISP0_DATA06
Pin ALT-1
IPU2_DISP0_DATA06
Pin ALT-2
ECSPI3_SS3
Pin ALT-3
AUD6_RXC
Pin ALT-5
GPIO4_IO27
J2.150
DISP0_DAT7
CPU.DISP0_DAT7
R24
AXEL_IO_3V3
IO
Pin ALT-0
IPU1_DISP0_DATA07
Pin ALT-1
IPU2_DISP0_DATA07
Pin ALT-2
ECSPI3_RDY
Pin ALT-5
GPIO4_IO28
J2.152
DISP0_DAT8
CPU.DISP0_DAT8
R22
AXEL_IO_3V3
IO
Pin ALT-0
IPU1_DISP0_DATA08
Pin ALT-1
IPU2_DISP0_DATA08
Pin ALT-2
PWM1_OUT
Pin ALT-3
WDOG1_B
Pin ALT-5
GPIO4_IO29
J2.154
DISP0_DAT9
CPU.DISP0_DAT9
T25
AXEL_IO_3V3
IO
Pin ALT-0
IPU1_DISP0_DATA09
Pin ALT-1
IPU2_DISP0_DATA09
Pin ALT-2
PWM2_OUT
Pin ALT-3
WDOG2_B
Pin ALT-5
GPIO4_IO30
J2.156
DISP0_DAT10
CPU.DISP0_DAT10
R21
AXEL_IO_3V3
IO
Pin ALT-0
IPU1_DISP0_DATA10
Pin ALT-1
IPU2_DISP0_DATA10
Pin ALT-5
GPIO4_IO31
J2.158
DISP0_DAT11
CPU.DISP0_DAT11
T23
AXEL_IO_3V3
IO
Pin ALT-0
IPU1_DISP0_DATA11
Pin ALT-1
IPU2_DISP0_DATA11
Pin ALT-5
GPIO5_IO05
J2.160
DISP0_DAT12
CPU.DISP0_DAT12
T24
AXEL_IO_3V3
IO
Pin ALT-0
IPU1_DISP0_DATA12
Pin ALT-1
IPU2_DISP0_DATA12
Pin ALT-5
GPIO5_IO06
J2.162
DISP0_DAT13
CPU.DISP0_DAT13
R20
AXEL_IO_3V3
IO
Pin ALT-0
IPU1_DISP0_DATA13
Pin ALT-1
IPU2_DISP0_DATA13
Pin ALT-3
AUD5_RXFS
Pin ALT-5
GPIO5_IO07
J2.164
DGND
DGND
-
-
G
J2.166
DISP0_DAT14
CPU.DISP0_DAT14
U25
AXEL_IO_3V3
IO
Pin ALT-0
IPU1_DISP0_DATA14
Pin ALT-1
IPU2_DISP0_DATA14
Pin ALT-3
AUD5_RXC
Pin ALT-5
GPIO5_IO08
J2.168
DISP0_DAT15
CPU.DISP0_DAT15
T22
AXEL_IO_3V3
IO
Pin ALT-0
IPU1_DISP0_DATA15
Pin ALT-1
IPU2_DISP0_DATA15
Pin ALT-2
ECSPI1_SS1
Pin ALT-3
ECSPI2_SS1
Pin ALT-5
GPIO5_IO09
J2.170
DISP0_DAT16
CPU.DISP0_DAT16
T21
AXEL_IO_3V3
IO
Pin ALT-0
IPU1_DISP0_DATA16
Pin ALT-1
IPU2_DISP0_DATA16
Pin ALT-2
ECSPI2_MOSI
Pin ALT-3
AUD5_TXC
Pin ALT-4
SDMA_EXT_EVENT0
Pin ALT-5
GPIO5_IO10
J2.172
DISP0_DAT17
CPU.DISP0_DAT17
U24
AXEL_IO_3V3
IO
Pin ALT-0
IPU1_DISP0_DATA17
Pin ALT-1
IPU2_DISP0_DATA17
Pin ALT-2
ECSPI2_MISO
Pin ALT-3
AUD5_TXD
Pin ALT-4
SDMA_EXT_EVENT1
Pin ALT-5
GPIO5_IO11
J2.174
DISP0_DAT18
CPU.DISP0_DAT18
V25
AXEL_IO_3V3
IO
Pin ALT-0
IPU1_DISP0_DATA18
Pin ALT-1
IPU2_DISP0_DATA18
Pin ALT-2
ECSPI2_SS0
Pin ALT-3
AUD5_TXFS
Pin ALT-4
AUD4_RXFS
Pin ALT-5
GPIO5_IO12
J2.176
DISP0_DAT19
CPU.DISP0_DAT19
U23
AXEL_IO_3V3
IO
Pin ALT-0
IPU1_DISP0_DATA19
Pin ALT-1
IPU2_DISP0_DATA19
Pin ALT-2
ECSPI2_SCLK
Pin ALT-3
AUD5_RXD
Pin ALT-4
AUD4_RXC
Pin ALT-5
GPIO5_IO13
J2.178
DISP0_DAT20
CPU.DISP0_DAT20
U22
AXEL_IO_3V3
IO
Pin ALT-0
IPU1_DISP0_DATA20
Pin ALT-1
IPU2_DISP0_DATA20
Pin ALT-2
ECSPI1_SCLK
Pin ALT-3
AUD4_TXC
Pin ALT-5
GPIO5_IO14
J2.180
DISP0_DAT21
CPU.DISP0_DAT21
T20
AXEL_IO_3V3
IO
Pin ALT-0
IPU1_DISP0_DATA21
Pin ALT-1
IPU2_DISP0_DATA21
Pin ALT-2
ECSPI1_MOSI
Pin ALT-3
AUD4_TXD
Pin ALT-5
GPIO5_IO15
J2.182
DISP0_DAT22
CPU.DISP0_DAT22
V24
AXEL_IO_3V3
IO
Pin ALT-0
IPU1_DISP0_DATA22
Pin ALT-1
IPU2_DISP0_DATA22
Pin ALT-2
ECSPI1_MISO
Pin ALT-3
AUD4_TXFS
Pin ALT-5
GPIO5_IO16
J2.184
DISP0_DAT23
CPU.DISP0_DAT23
W24
AXEL_IO_3V3
IO
Pin ALT-0
IPU1_DISP0_DATA23
Pin ALT-1
IPU2_DISP0_DATA23
Pin ALT-2
ECSPI1_SS0
Pin ALT-3
AUD4_RXD
Pin ALT-5
GPIO5_IO17
J2.186
USB_OTG_VBUS
CPU.USB_OTG_VBUS
E9
J2.188
USB_H1_VBUS
CPU.USB_H1_VBUS
D10
J2.190
DGND
DGND
-
-
G
J2.192
ENET_RX_ER
CPU.ENET_RX_ER
W23
VCC_ENET_1V8
IO
This pin is 1V8 tolerant (i.e. must be connected to a 1V8 power domain)
Pin ALT-0
USB_OTG_ID
Pin ALT-1
ENET_RX_ER
Pin ALT-2
ESAI_RX_HF_CLK
Pin ALT-3
SPDIF_IN
Pin ALT-4
ENET_1588_EVENT2_OUT
Pin ALT-5
GPIO1_IO24
J2.194
ENET_RXD0
CPU.ENET_RXD0
W21
VCC_ENET_1V8
IO
This pin is 1V8 tolerant (i.e. must be connected to a 1V8 power domain)
Pin ALT-1
ENET_RX_DATA0
Pin ALT-2
ESAI_TX_HF_CLK
Pin ALT-3
SPDIF_OUT
Pin ALT-5
GPIO1_IO27
J2.196
USB_OTG_DN
CPU.USB_OTG_DN
B6
D
J2.198
USB_OTG_DP
CPU.USB_OTG_DP
A6
D
J2.200
USB_HOST_DP
CPU.USB_HOST_DP
E10
D
J2.202
USB_HOST_DN
CPU.USB_HOST_DN
F10
D
J2.204
DGND
DGND
-
-
G
---