Category:NaonEVB-Lite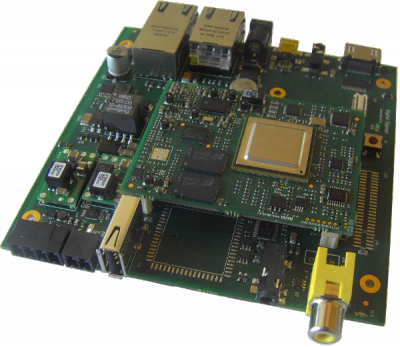 NaonEVB-Lite is an application board designed to quickly start evaluating Naon features. The carrier board hosts a Naon CPU module equipped with the DaVinci DM8148 processor, the top model of the Naon family. The carrier board has a reduced form factor (11.5 cm x 11.5 cm) and offers the following features:
Gigabit Ethernet LAN
Fast Ethernet LAN
HDMI 1.3a
Composite Video output
SD/MMC socket
1x USB Host 2.0
1x USB On-The-Go 2.0
Optional 7" 800x480 TFT Display
Optional on-board solid state disk (SSD)
Audio (Stereo) Input/Output (simultaneous), up to 48 KHz
1x Serial port
4x GPIOs
1x Free Contact
Power supply: 12VDC or PoE
Aluminium fanless case available
Pages in category "NaonEVB-Lite"
The following 13 pages are in this category, out of 13 total.