MayaEVB-Lite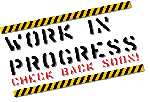 | | | |
| --- | --- | --- |
| | The information here provided are preliminary and subject to change. | |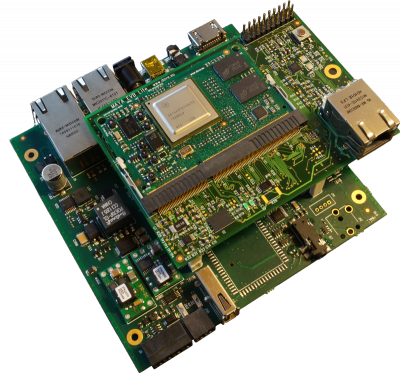 MayaEVB-Lite is an adapter board designed to evaluate the functionalities of MAYA. Because the similarities between MAYA and NAON (1), it has been designed to allow the mating of Maya on carrier boards designed for Naon originally. Thus MayaEVB-Lite shall always be used in combination with such a kind of carrier board (for example see NaonEVB-Lite and NaonEVB-Mid).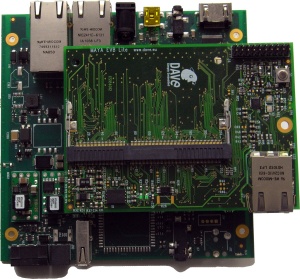 (1) Maya can be considered as a design derived from NAON. Thus they have a lot of common in terms of functional and electrical characteristics. Even if they do not have the same form factor, many interface signals are the same.
Please note that Orcad CIS is required to get all the information about BOM variants included in .dsn files.

PDF files show the view of the default BOM variant used to manufacture the board. Components that are not populated are denoted as "Do Not Stuff".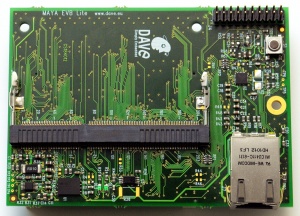 U-Boot 2010.06-00011-gd371eb4 (Apr 22 2013 - 17:24:46) [nelk-4.0.0-Maya-min]

TI8148-GP rev 3.0

ARM clk: 600MHz
DDR clk: 400MHz
L3  clk: 200MHz
DSS clk: 200MHz
IVA clk: 266MHz
ISS clk: 400MHz
DSP clk: 500MHz

DRAM:  512 MiB
Using default environment

Hit any key to stop autoboot:  0 
SF: Detected MX25L25635F with page size 256, total 33554432 bytes
32768 KiB MX25L25635F at 0:0 is now current device
## Starting application at 0x81000000 ...


U-Boot 2010.06-00011-gd371eb4 (Apr 22 2013 - 17:25:25) [nelk-4.0.0-Maya]

TI8148-GP rev 3.0

ARM clk: 600MHz
DDR clk: 400MHz
L3  clk: 200MHz
DSS clk: 200MHz
IVA clk: 266MHz
ISS clk: 400MHz
DSP clk: 500MHz

I2C:   ready
DRAM:  512 MiB
NAND:  HW ECC BCH8 Selected
1024 MiB
MMC:   OMAP SD/MMC: 0
SF: Detected MX25L25635F with page size 256, total 33554432 bytes
MUX: configuring for maya_naon_evb_lite
Net:   Detected MACID:00:50:C2:1E:AF:E4
cpsw
Hit any key to stop autoboot:  0 
MAYA#
MAYA#run net_nfs
Skipping PHY 0x6
Trying port: 3
Resetting Micrel KSZ8031
Auto negotiation DONE!
link up on port 1, speed 100, full duplex
Using cpsw device
TFTP from server 192.168.0.121; our IP address is 192.168.0.123
Filename 'maya/uImage'.
Load address: 0x81000000
Loading: T #################################################################
         #################################################################
         #################################################################
         #################################################################
         #################################################################
         #################################################################
         #################################################################
         #################################################################
         #################################################################
         ##################################
done
Bytes transferred = 3164236 (30484c hex)
## Booting kernel from Legacy Image at 81000000 ...
   Image Name:   Linux-2.6.37-naon-4.0.0+
   Image Type:   ARM Linux Kernel Image (uncompressed)
   Data Size:    3164172 Bytes = 3 MiB
   Load Address: 80008000
   Entry Point:  80008000
   Verifying Checksum ... OK
   Loading Kernel Image ... OK
OK

Starting kernel ...

Uncompressing Linux... done, booting the kernel.
[    0.000000] Linux version 2.6.37-naon-4.0.0+ (nelk@nelk-desktop) (gcc version 4.3.3 (Sourcery G++ Lite 2009q1-203) ) #1 Mon Apr 22 16:57:14 CEST 2013
[    0.000000] CPU: ARMv7 Processor [413fc082] revision 2 (ARMv7), cr=10c53c7f
[    0.000000] CPU: VIPT nonaliasing data cache, VIPT aliasing instruction cache
[    0.000000] Machine: maya
[    0.000000] bootconsole [earlycon0] enabled
[    0.000000] vram size = 48234496 at 0x0
[    0.000000] ti81xx_reserve: ### Reserved DDR region @8af00000
[    0.000000] reserved size = 48234496 at 0x0
[    0.000000] FB: Reserving 48234496 bytes SDRAM for VRAM
[    0.000000] Memory policy: ECC disabled, Data cache writeback
[    0.000000] OMAP chip is TI8148 3.0
[    0.000000] SRAM: Mapped pa 0x402f1000 to va 0xfe400000 size: 0xf000
[    0.000000] Built 1 zonelists in Zone order, mobility grouping on.  Total pages: 32672
[    0.000000] Kernel command line: root=/dev/nfs rw nfsroot=192.168.0.121:/home/shared/devel/dave/naon-DAA/sw/linux/sdk/rfs/nelk panic=5 ip=192.168.0.123:192.168.0.121:192.168.0.254:250
[    0.000000] PID hash table entries: 512 (order: -1, 2048 bytes)
[    0.000000] Dentry cache hash table entries: 16384 (order: 4, 65536 bytes)
[    0.000000] Inode-cache hash table entries: 8192 (order: 3, 32768 bytes)
[    0.000000] Memory: 128MB 1MB = 129MB total
[    0.000000] Memory: 123832k/123832k available, 56392k reserved, 0K highmem
[    0.000000] Virtual kernel memory layout:
[    0.000000]     vector  : 0xffff0000 - 0xffff1000   (   4 kB)
[    0.000000]     fixmap  : 0xfff00000 - 0xfffe0000   ( 896 kB)
[    0.000000]     DMA     : 0xffc00000 - 0xffe00000   (   2 MB)
[    0.000000]     vmalloc : 0xcb800000 - 0xf8000000   ( 712 MB)
[    0.000000]     lowmem  : 0xc0000000 - 0xcb000000   ( 176 MB)
[    0.000000]     pkmap   : 0xbfe00000 - 0xc0000000   (   2 MB)
[    0.000000]     modules : 0xbf000000 - 0xbfe00000   (  14 MB)
[    0.000000]       .init : 0xc0008000 - 0xc0035000   ( 180 kB)
[    0.000000]       .text : 0xc0035000 - 0xc05fd000   (5920 kB)
[    0.000000]       .data : 0xc05fe000 - 0xc0648e40   ( 300 kB)
[    0.000000] SLUB: Genslabs=11, HWalign=64, Order=0-3, MinObjects=0, CPUs=1, Nodes=1
[    0.000000] NR_IRQS:375
[    0.000000] omap_hwmod: gpio1: softreset failed (waited 10000 usec)
[    0.000000] omap_hwmod: gpio2: softreset failed (waited 10000 usec)
[    0.000000] omap_hwmod: gpio3: softreset failed (waited 10000 usec)
[    0.000000] omap_hwmod: gpio4: softreset failed (waited 10000 usec)
[    0.000000] IRQ: Found an INTC at 0xfa200000 (revision 5.0) with 128 interrupts
[    0.000000] Total of 128 interrupts on 1 active controller
[    0.000000] GPMC revision 6.0
[    0.000000] Trying to install interrupt handler for IRQ368
[    0.000000] Trying to install interrupt handler for IRQ369
[    0.000000] Trying to install interrupt handler for IRQ370
[    0.000000] Trying to install interrupt handler for IRQ371
[    0.000000] Trying to install interrupt handler for IRQ372
[    0.000000] Trying to install interrupt handler for IRQ373
[    0.000000] Trying to install interrupt handler for IRQ374
[    0.000000] Trying to install type control for IRQ375
[    0.000000] Trying to set irq flags for IRQ375
[    0.000000] OMAP clockevent source: GPTIMER1 at 20000000 Hz
[    0.000000] Console: colour dummy device 80x30
[    0.000000] Calibrating delay loop... 598.01 BogoMIPS (lpj=2990080)
[    0.240000] pid_max: default: 32768 minimum: 301
[    0.240000] Security Framework initialized
[    0.250000] Mount-cache hash table entries: 512
[    0.250000] CPU: Testing write buffer coherency: ok
[    0.260000] devtmpfs: initialized
[    0.260000] TI81XX: Map 0x8af00000 to 0xfe500000 for dram barrier
[    0.270000] TI81XX: Map 0x40300000 to 0xfe600000 for sram barrier
[    0.280000] omap_voltage_early_init: voltage driver support not added
[    0.280000] regulator: core version 0.5
[    0.290000] regulator: dummy: 
[    0.290000] NET: Registered protocol family 16
[    0.290000] omap_voltage_domain_lookup: Voltage driver init not yet happened.Faulting!
[    0.300000] omap_voltage_add_dev: VDD specified does not exist!
[    0.310000] OMAP GPIO hardware version 0.1
[    0.310000] OMAP GPIO hardware version 0.1
[    0.320000] OMAP GPIO hardware version 0.1
[    0.320000] OMAP GPIO hardware version 0.1
[    0.330000] clk get on i2c3 fck failed
[    0.340000] Cannot clk_get ck_32
[    0.340000] Debugfs: Only enabling/disabling deep sleep and wakeup timer is supported now
[    0.350000] registered ti81xx_vpss device
[    0.360000] registered ti81xx_vidout device
[    0.360000] registered ti81xx_fb device
[    0.360000] registered ti81xx_vin device
[    0.380000] bio: create slab <bio-0> at 0
[    0.380000] SCSI subsystem initialized
[    0.390000] usbcore: registered new interface driver usbfs
[    0.390000] usbcore: registered new interface driver hub
[    0.400000] usbcore: registered new device driver usb
[    0.410000] USBSS revision 4ea2080b
[    0.410000] registerd cppi-dma Intr @ IRQ 17
[    0.410000] Cppi41 Init Done
[    0.420000] omap_i2c omap_i2c.1: bus 1 rev4.0 at 100 kHz
[    0.430000] regulator: VRTC: 1800 mV 
[    0.430000] regulator: VIO: 1500 mV 
[    0.440000] regulator: VDD1: 600 <--> 1500 mV at 1200 mV 
[    0.440000] regulator: VDD2: 600 <--> 1500 mV at 1200 mV 
[    0.450000] regulator: VDDCTRL: 600 <--> 1400 mV at 1200 mV 
[    0.460000] regulator: LDO1: 1100 <--> 3300 mV at 1800 mV 
[    0.470000] regulator: LDO2: 1100 <--> 3300 mV at 1800 mV 
[    0.470000] regulator: LDO3: 1100 <--> 3300 mV at 3300 mV 
[    0.480000] regulator: LDO4: 1100 <--> 3300 mV at 1800 mV 
[    0.490000] regulator: LDO5: 1100 <--> 3300 mV at 3300 mV 
[    0.490000] regulator: LDO6: 1100 <--> 3300 mV at 3300 mV 
[    0.500000] regulator: LDO7: 1100 <--> 3300 mV at 3300 mV 
[    0.510000] regulator: LDO8: 1100 <--> 3300 mV at 1800 mV 
[    0.510000] tps65910 1-002d: No interrupt support, no core IRQ
[    0.520000] regulator: tps62353: 750 <--> 1537 mV at 1200 mV 
[    0.550000] omap_i2c omap_i2c.2: bus 2 rev4.0 at 100 kHz
[    0.570000] omap_i2c omap_i2c.4: bus 4 rev4.0 at 100 kHz
[    0.570000] Advanced Linux Sound Architecture Driver Version 1.0.23.
[    0.580000] Bluetooth: Core ver 2.15
[    0.580000] NET: Registered protocol family 31
[    0.590000] Bluetooth: HCI device and connection manager initialized
[    0.590000] Bluetooth: HCI socket layer initialized
[    0.600000] cfg80211: Calling CRDA to update world regulatory domain
[    0.610000] Switching to clocksource gp timer
[    0.620000] musb-hdrc: version 6.0, host, debug=0
[    0.620000] musb-hdrc musb-hdrc.0: dma type: dma-cppi41
[    0.630000] MUSB controller-0 revision 4ea20800
[    0.630000] usb2phy: computed values rxcalib(15)DACs(33 12 15)
[    0.640000] usb2phy: override computed values rxcalib(15)DACs(33 12 15)
[    0.650000] usb2phy_config: musb(0) rxcalib done, rxcalib read value 6f70d97e
[    0.660000] musb-hdrc musb-hdrc.0: MUSB HDRC host driver
[    0.660000] musb-hdrc musb-hdrc.0: new USB bus registered, assigned bus number 1
[    0.670000] usb usb1: New USB device found, idVendor=1d6b, idProduct=0002
[    0.680000] usb usb1: New USB device strings: Mfr=3, Product=2, SerialNumber=1
[    0.680000] usb usb1: Product: MUSB HDRC host driver
[    0.690000] usb usb1: Manufacturer: Linux 2.6.37-naon-4.0.0+ musb-hcd
[    0.700000] usb usb1: SerialNumber: musb-hdrc.0
[    0.700000] hub 1-0:1.0: USB hub found
[    0.710000] hub 1-0:1.0: 1 port detected
[    0.710000] musb-hdrc musb-hdrc.0: USB Host mode controller at cb81e000 using DMA, IRQ 18
[    0.720000] musb-hdrc musb-hdrc.1: dma type: dma-cppi41
[    0.730000] MUSB controller-1 revision 4ea20800
[    0.730000] usb2phy: computed values rxcalib(15)DACs(39 13 14)
[    0.740000] usb2phy: override computed values rxcalib(15)DACs(39 13 14)
[    0.740000] usb2phy_config: musb(1) rxcalib done, rxcalib read value 6f73db76
[    0.750000] musb-hdrc musb-hdrc.1: MUSB HDRC host driver
[    0.760000] musb-hdrc musb-hdrc.1: new USB bus registered, assigned bus number 2
[    0.770000] usb usb2: New USB device found, idVendor=1d6b, idProduct=0002
[    0.770000] usb usb2: New USB device strings: Mfr=3, Product=2, SerialNumber=1
[    0.780000] usb usb2: Product: MUSB HDRC host driver
[    0.790000] usb usb2: Manufacturer: Linux 2.6.37-naon-4.0.0+ musb-hcd
[    0.790000] usb usb2: SerialNumber: musb-hdrc.1
[    0.800000] hub 2-0:1.0: USB hub found
[    0.800000] hub 2-0:1.0: 1 port detected
[    0.810000] musb-hdrc musb-hdrc.1: USB Host mode controller at cb828800 using DMA, IRQ 19
[    0.810000] NET: Registered protocol family 2
[    0.820000] IP route cache hash table entries: 1024 (order: 0, 4096 bytes)
[    0.830000] TCP established hash table entries: 4096 (order: 3, 32768 bytes)
[    0.830000] TCP bind hash table entries: 4096 (order: 2, 16384 bytes)
[    0.840000] TCP: Hash tables configured (established 4096 bind 4096)
[    0.850000] TCP reno registered
[    0.850000] UDP hash table entries: 256 (order: 0, 4096 bytes)
[    0.860000] UDP-Lite hash table entries: 256 (order: 0, 4096 bytes)
[    0.860000] NET: Registered protocol family 1
[    0.870000] RPC: Registered udp transport module.
[    0.870000] RPC: Registered tcp transport module.
[    0.880000] RPC: Registered tcp NFSv4.1 backchannel transport module.
[    0.890000] NetWinder Floating Point Emulator V0.97 (double precision)
[    0.890000] PMU: registered new PMU device of type 0
[    0.900000] Naon Custom Power Management registered
[    0.900000] omap-iommu omap-iommu.0: ducati registered
[    0.910000] omap-iommu omap-iommu.1: sys registered
[    1.070000] squashfs: version 4.0 (2009/01/31) Phillip Lougher
[    1.080000] JFFS2 version 2.2. (NAND) �© 2001-2006 Red Hat, Inc.
[    1.080000] msgmni has been set to 241
[    1.090000] io scheduler noop registered
[    1.090000] io scheduler deadline registered
[    1.100000] io scheduler cfq registered (default)
[    1.100000] Serial: 8250/16550 driver, 4 ports, IRQ sharing enabled
[    1.110000] omap_uart.0: ttyO0 at MMIO 0x48020000 (irq = 72) is a OMAP UART0
[    1.120000] console [ttyO0] enabled, bootconsole disabled
[    1.120000] console [ttyO0] enabled, bootconsole disabled
[    1.130000] omap_uart.1: ttyO1 at MMIO 0x48022000 (irq = 73) is a OMAP UART1
[    1.140000] omap_uart.2: ttyO2 at MMIO 0x48024000 (irq = 74) is a OMAP UART2
[    1.140000] omap_uart.3: ttyO3 at MMIO 0x481a6000 (irq = 44) is a OMAP UART3
[    1.150000] omap_uart.4: ttyO4 at MMIO 0x481a8000 (irq = 45) is a OMAP UART4
[    1.160000] omap_uart.5: ttyO5 at MMIO 0x481aa000 (irq = 46) is a OMAP UART5
[    1.180000] brd: module loaded
[    1.180000] loop: module loaded
[    1.190000] m25p80 spi1.0: mx25l25635e (32768 Kbytes)
[    1.190000] Creating 6 MTD partitions on "spi_flash":
[    1.200000] 0x000000000000-0x000000020000 : "SPI u-boot 1st"
[    1.200000] 0x000000020000-0x000000040000 : "SPI u-boot 2nd"
[    1.210000] 0x000000040000-0x000000050000 : "SPI u-boot env1"
[    1.220000] 0x000000050000-0x000000060000 : "SPI u-boot env2"
[    1.230000] 0x000000060000-0x000000360000 : "SPI Linux Kernel"
[    1.230000] 0x000000360000-0x000002000000 : "SPI Free Space"
[    1.240000] omap2-nand driver initializing
[    1.250000] NAND device: Manufacturer ID: 0xec, Chip ID: 0xd3 (Samsung )
[    1.250000] Creating 7 MTD partitions on "omap2-nand.0":
[    1.260000] 0x000000000000-0x000000020000 : "NAND U-Boot-min"
[    1.270000] 0x000000020000-0x000000060000 : "NAND U-Boot"
[    1.270000] 0x000000060000-0x000000080000 : "NAND U-Boot Env1"
[    1.280000] 0x000000080000-0x0000000a0000 : "NAND U-Boot Env2"
[    1.290000] 0x0000000a0000-0x0000004a0000 : "NAND Kernel"
[    1.300000] 0x0000004a0000-0x000008000000 : "NAND File System (small)"
[    1.440000] 0x000008000000-0x000040000000 : "NAND File System (big)"
[    2.450000] davinci_mdio davinci_mdio.0: davinci mdio revision 1.6
[    2.450000] davinci_mdio davinci_mdio.0: detected phy mask ffffffb6
[    2.460000] Setting Micrel KSZ8031 PHY to 50MHz clock mode (1Fh register bit 7)
[    2.470000] davinci_mdio.0: probed
[    2.470000] davinci_mdio davinci_mdio.0: phy[0]: device 0:00, driver Micrel KS8051/31
[    2.480000] davinci_mdio davinci_mdio.0: phy[3]: device 0:03, driver Micrel KS8051/31
[    2.490000] davinci_mdio davinci_mdio.0: phy[6]: device 0:06, driver SMSC LAN8710/LAN8720
[    2.500000] CAN device driver interface
[    2.500000] CAN bus driver for Bosch D_CAN controller 1.0
[    2.510000] d_can d_can: d_can device registered (irq=52, irq_obj=53)
[    2.510000] tun: Universal TUN/TAP device driver, 1.6
[    2.520000] tun: (C) 1999-2004 Max Krasnyansky <maxk@qualcomm.com>
[    2.530000] usbcore: registered new interface driver asix
[    2.530000] Initializing USB Mass Storage driver...
[    2.540000] usbcore: registered new interface driver usb-storage
[    2.540000] USB Mass Storage support registered.
[    2.550000] mice: PS/2 mouse device common for all mice
[    2.560000] tps65910-rtc tps65910-rtc: Found RC mode, switching to crystal
[    2.570000] tps65910-rtc tps65910-rtc: rtc core: registered tps65910-rtc as rtc0
[    2.580000] i2c /dev entries driver
[    2.580000] Linux video capture interface: v2.00
[    2.590000] ina2xx 4-0041: power monitor INA226 (Rshunt = 10000 uOhm)
[    2.600000] OMAP Watchdog Timer Rev 0x00: initial timeout 60 sec
[    2.600000] Bluetooth: HCI UART driver ver 2.2
[    2.610000] Bluetooth: HCI H4 protocol initialized
[    2.610000] Bluetooth: HCI BCSP protocol initialized
[    2.620000] Bluetooth: HCILL protocol initialized
[    2.620000] cpuidle: using governor ladder
[    2.630000] cpuidle: using governor menu
[    2.630000] usbcore: registered new interface driver usbhid
[    2.640000] usbhid: USB HID core driver
[    2.640000] notify_init : notify drivercreated  for  remote proc id 2 at physical Address 0xbf900000
[    2.660000] UDA134X SoC Audio Codec
[    2.680000] asoc: uda134x-hifi <-> davinci-mcasp.2 mapping ok
[    2.680000] ALSA device list:
[    2.690000]   #0: NAON DDS
[    2.690000] NET: Registered protocol family 26
[    2.700000] TCP cubic registered
[    2.700000] NET: Registered protocol family 17
[    2.700000] can: controller area network core (rev 20090105 abi 8)
[    2.710000] NET: Registered protocol family 29
[    2.710000] can: raw protocol (rev 20090105)
[    2.720000] can: broadcast manager protocol (rev 20090105 t)
[    2.720000] Bluetooth: L2CAP ver 2.15
[    2.730000] Bluetooth: L2CAP socket layer initialized
[    2.730000] Bluetooth: SCO (Voice Link) ver 0.6
[    2.740000] Bluetooth: SCO socket layer initialized
[    2.740000] Bluetooth: RFCOMM TTY layer initialized
[    2.750000] Bluetooth: RFCOMM socket layer initialized
[    2.750000] Bluetooth: RFCOMM ver 1.11
[    2.760000] Bluetooth: BNEP (Ethernet Emulation) ver 1.3
[    2.760000] Bluetooth: BNEP filters: protocol multicast
[    2.770000] Bluetooth: HIDP (Human Interface Emulation) ver 1.2
[    2.780000] 802.1Q VLAN Support v1.8 Ben Greear <greearb@candelatech.com>
[    2.780000] All bugs added by David S. Miller <davem@redhat.com>
[    2.790000] lib80211: common routines for IEEE802.11 drivers
[    2.800000] Registering the dns_resolver key type
[    2.800000] VFP support v0.3: implementor 41 architecture 3 part 30 variant c rev 3
[    2.810000] omap_voltage_late_init: Voltage driver support not added
[    2.820000] Power Management for TI81XX.
[    2.830000] CPSW initializing in DUAL mode
[    2.830000] Detected MACID=84:7E:40:8A:54:AA
[    2.840000] Detected MACID=84:7E:40:8A:54:AB
[    2.850000] tps65910-rtc tps65910-rtc: setting system clock to 2000-01-01 00:00:00 UTC (946684800)
[    3.370000] Setting Micrel KSZ8031 PHY to 50MHz clock mode (1Fh register bit 7)
[    3.380000] 
[    3.380000] CPSW phy found : id is : 0x221556
[    3.390000] 8021q: adding VLAN 0 to HW filter on device eth1
[    3.400000] Adding vlanid 0 to vlan filter
[    4.410000] IP-Config: Complete:
[    4.410000]      device=eth1, addr=192.168.0.123, mask=255.255.255.0, gw=192.168.0.254,
[    4.420000]      host=maya, domain=, nis-domain=(none),
[    4.420000]      bootserver=192.168.0.121, rootserver=192.168.0.121, rootpath=
[    6.380000] PHY: 0:03 - Link is Up - 100/Full
[    6.520000] VFS: Mounted root (nfs filesystem) on device 0:14.
[    6.530000] devtmpfs: mounted
[    6.530000] Freeing init memory: 180K
INIT: version 2.86 booting
Please wait: booting...
Error opening /dev/fb0: No such file or directory
Starting udev
[    7.740000] udevd (95): /proc/95/oom_adj is deprecated, please use /proc/95/oom_score_adj instead.
Root filesystem already rw, not remounting
Caching udev devnodes
[   13.310000] NET: Registered protocol family 10
ALSA: Restoring mixer settings...
NOT configuring network interfaces: / is an NFS mount
No state is present for card DDS
Found hardware: "" "" "" "" ""
Hardware is initialized using a generic method
No state is present for card DDS
Thu Apr  4 12:21:00 UTC 2013
INIT: Entering runlevel: 5
Using firmware for 'maya' from directory /usr/share/ti/ti-media-controller-utils
HDVICP detected successfully
DM814X prcm_config_app version: 2.0.0.1
Doing PRCM settings...
        PRCM for IVHD0 is in Progress, Please wait.....  
                        BW Phy Addr : 0x48180600 Data : 0x00000002
                        AW Phy Addr : 0x48180600 Data : 0x00000002
                        Phy Addr : 0x48180c04 Data : 0x00000037
                        BW Phy Addr : 0x48180620 Data : 0x00070000
                        AW Phy Addr : 0x48180620 Data : 0x00070002
                        BW Phy Addr : 0x48180624 Data : 0x00030000
                        AW Phy Addr : 0x48180624 Data : 0x00010002
                        Phy Addr : 0x48180600 Data : 0x00000102
                        BW Phy Addr : 0x48180c10 Data : 0x00000007
                        AW Phy Addr : 0x48180c10 Data : 0x00000003
                        Phy Addr : 0x48180c14 Data : 0x00000004
                        BW Phy Addr : 0x58088000 Data : 0x828422f4
                        AW Phy Addr : 0x58088000 Data : 0xeafffffe
                        BW Phy Addr : 0x58098000 Data : 0x9e078288
                        AW Phy Addr : 0x58098000 Data : 0xeafffffe
                        BW Phy Addr : 0x48180c10 Data : 0x00000003
                        AW Phy Addr : 0x48180c10 Data : 0x00000000
                        Phy Addr : 0x48180c14 Data : 0x00000007
        PRCM for IVHD0 is Done Successfully  
PRCM Initialization completed 
Loading syslink module
FATAL: Module syslink not found.
Running depmod to look for missing syslink module..
[   16.380000] SysLink version : 2.20.02.20
[   16.380000] SysLink module created on Date:Apr 22 2013 Time:16:58:21
Loading HDVICP2 Firmware
FIRMWARE: memory map bin file: /usr/share/ti/ti-media-controller-utils/mm_dm81xxbm.bin
FIRMWARE: isI2cInitRequiredOnM3: 0
Current FL_DEBUG = error
Allowed FL_DEBUG levels: error, warning, info, debug, log
MemCfg: DCMM (Dynamically Configurable Memory Map) Version :  2.1.2.1
FIRMWARE: 1 start Successful
Loading HDVPSS Firmware
FIRMWARE: memory map bin file: /usr/share/ti/ti-media-controller-utils/mm_dm81xxbm.bin
FIRMWARE: isI2cInitRequiredOnM3: 0
Current FL_DEBUG = error
Allowed FL_DEBUG levels: error, warning, info, debug, log
MemCfg: DCMM (Dynamically Configurable Memory Map) Version :  2.1.2.1
FIRMWARE: 2 start Successful
FATAL: Module ti81xxhdmi not found.
[   18.980000] Naon EVB Mid dummy decoder registered
[   19.020000] ti81xxvin ti81xxvin: registered sub device tvp7002
[   19.020000] ti81xxvin ti81xxvin: TI81xx HDVPSS Capture driver initialized
Starting system message bus: dbus.
Starting Dropbear SSH server: dropbear.
Starting telnet daemon.
Starting network benchmark server: netserver.
Starting syslogd/klogd: done
Starting thttpd.
Starting PVR
Usage: insmod filename [args]
/dev/mem opened.
Memory mapped at address 0x4026f000.
Read at address  0x48180F04 (0x4026ff04): 0x00000001
Write at address 0x48180F04 (0x4026ff04): 0x00000000, readback 0x00000000
/dev/mem opened.
Memory mapped at address 0x401f3000.
Read at address  0x48180900 (0x401f3900): 0x00000102
Write at address 0x48180900 (0x401f3900): 0x00000002, readback 0x00000002
/dev/mem opened.
Memory mapped at address 0x4024a000.
Read at address  0x48180920 (0x4024a920): 0x00040002
Write at address 0x48180920 (0x4024a920): 0x00000002, readback 0x00000002

 _____                    _____           _         _   
|  _  |___ ___ ___ ___   |  _  |___ ___  |_|___ ___| |_ 
|     |  _| .'| . | . |  |   __|  _| . | | | -_|  _|  _|
|__|__|_| |__,|_  |___|  |__|  |_| |___|_| |___|___|_|  
              |___|                    |___|            

Arago Project http://arago-project.org dm814x-evm ttyO0

Arago 2011.09 dm814x-evm ttyO0

dm814x-evm login: