Category:Dacu
From DAVE Developer's Wiki
Dacu Carrier Board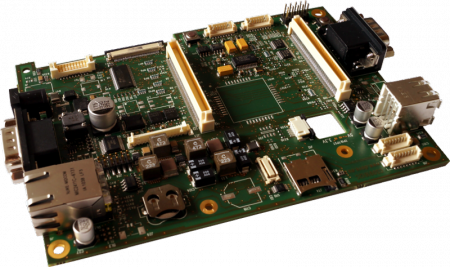 Dacu is a carrier board that can host various DAVE Embedded Systems SOMs. The following table reports the main system specifications. For detailed information, please refer to the Dacu carrier board page.
Supported SOMs
Axel Ultra
Axel Lite
Diva
Lizard
Availability
Axel: Axel Embedded Linux Kit
Diva: Diva Embedded Linux Kit
Lizard: on request (please contact our Sales Department)
Power
12-24 V
Serial Ports
1x UART RS232 on DB9
1x UART (RS232/RS422/RS485) or CAN on DB9 (hardware mount options)
1x UART RS232 on pin strip (debug port)
Ethernet
1x Fast Ethernet on RJ45 connector
Display
7" 800x480 LVDS
Storage
1x microSD slot
USB
2x USB 2.0 ports
Audio
UDA1345 codec
Buses
I2C
SPI
Other
On board touch controller
Optional Wi-Fi module
GPIOs

This category collects all the pages specific to the Dacu carrier board.
Pages in category "Dacu"
The following 13 pages are in this category, out of 13 total.