Extra Ethernet interface (XUAE)
As known, SBC Lynx is conceived to allow the customer to plug in some additional boards to the mainboard.
This document presents an example of such add-ons. This board provides more interfaces to the SBC, augment expansion pin availability or add the possibility to use a custom board suitable for every needs.
Not all SBC Lynx models support every add-on. We recommend to check the compatibility list.
Extra Ethernet interface (XUAE)
[
edit
|
edit source
]
This Addon allows to add an ethernet connector and a 10/100 ethernet interface to SBC Lynx. The interface is seen as an indipendent port and can be easily fully standalone configured.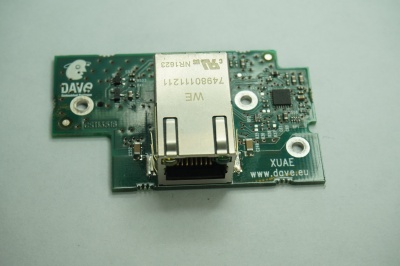 This add on is mounted on J52 One Piece connector site in SBC Lynx mainboard and is locked by 3 screws, 2 for J52 and 1 for PEM. PEM provides SHIELD connection to mainboard PCB Ring for improve common noise immunity.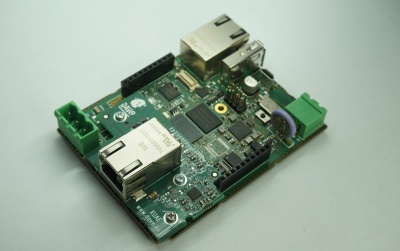 Technical Specifications

| | | |
| --- | --- | --- |
| Feature | Description | Ports |
| 10/100 Eth Port | Standard Ethernet Port | 1 |
Above table lists only used pins
Pinout

| | | | |
| --- | --- | --- | --- |
| Connector | PIN | Pin Name | Description or Usage |
| J52 | 1 | DGND | System DGND |
| J52 | 13 | DGND | System DGND |
| J52 | 20 | ETH_INT | Interrupt from PHY ETH |
| J52 | 22 | ETH_PHY_RST | CPU Reset Signal for PHY ETH |
| J52 | 24 | DGND | System DGND |
| J52 | 26 | ENET2_RX_DATA0 | RMII Signal for PHY ETH |
| J52 | 28 | ENET2_RX_DATA1 | RMII Signal for PHY ETH |
| J52 | 30 | ENET2_RX_EN | RMII Signal for PHY ETH |
| J52 | 29 | DGND | System DGND |
| J52 | 32 | ENET2_TX_DATA0 | RMII Signal for PHY ETH |
| J52 | 34 | ENET2_TX_DATA1 | RMII Signal for PHY ETH |
| J52 | 36 | ENET2_TX_EN | RMII Signal for PHY ETH |
| J52 | 38 | ENET2_TX_CLK | RMII Signal for PHY ETH |
| J52 | 40 | ENET2_RX_ER | RMII Signal for PHY ETH |
| J52 | 42 | DGND | System DGND |
| J52 | 43 | DGND | System DGND |
| J52 | 44 | GPIO_IO07 | MII BUS |
| J52 | 46 | GPIO_IO07 | MII BUS |
| J52 | 53 | CPU_PORn | System Reset Signal for PHY ETH |
| J52 | 55 | 3V3_AUX | Power Supply |
| J52 | 59 | 3V3_AUX | Power Supply |
| J52 | 60 | 3V3_AUX | Power Supply |
SBC Lynx that supports this add-ons:
The following image shows the module dimensions:
The following images show the module layout:
The component view (top and bottom) is avalable as PDF file:
http://www.dave.eu/sites/default/files/files/XUAE_component_view.pdf
3D: http://www.dave.eu/sites/default/files/files/SBC-LYNX-with-addons_stp.zip
DXF: http://www.dave.eu/sites/default/files/files/XUAE_dxf.zip