Additional industrial I/Os (XUAL)
As known, SBC Lynx is conceived to allow the customer to plug in some additional boards to the mainboard.
This document presents an example of such add-ons. This board provides more interfaces to the SBC, augment expansion pin availability or add the possibility to use a custom board suitable for every needs.
Not all SBC Lynx models support every avalable add-on. We recommend to check the compatibility list.
Additional industrial I/Os (XUAL)
[
edit
|
edit source
]
This add-on examples how to add an isolated relay, digital isolated I/Os and an ADC interfaces to the SBC Lynx.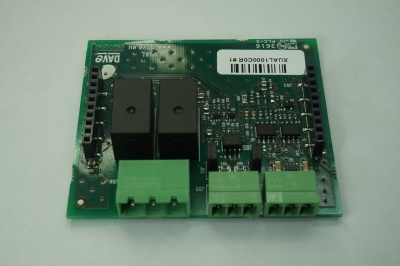 The Add-on fits on J53 and J54 connectors, but uses signals and powers from J54 connector only.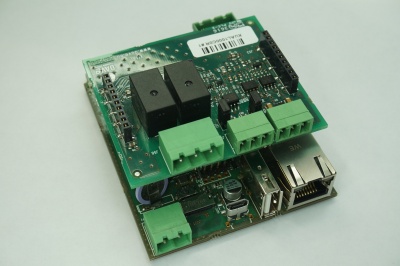 Technical Specifications

| | | |
| --- | --- | --- |
| Feature | Description | Ports |
| PT100 ADC PORT | ADC Interface for PT100 Probe | 1 |
| Isolated Relay Output | Common Input Dual Relay Output | 2 |
| Digital Input | 12-24V Input Digital I/O 2KV Isolated | 2 |
Pinout

| | | | |
| --- | --- | --- | --- |
| Connector | PIN | Pin Name | Description or Usage |
| J54 | 1 | VIN | Power IN (from SBC Lynx VIN) |
| J54 | 2 | PMIC_5V | Relay coil PSU |
| J54 | 3 | 3V3_AUX | Internal PSU |
| J54 | 4 | VDDA_ADC_3P3 | ADC reference voltage |
| J54 | 5 | ADC_IN | ADC Input for uC |
| J54 | 6 | DOUT_0 | Relay 0 coil activation |
| J54 | 7 | DOUT_1 | Relay1 coil activation |
| J54 | 8 | DIN_0 | Digital Input 0 |
| J54 | 9 | DIN_1 | Digital Input 1 |
| J54 | 10 | GND | System GND |
| J53 | 1 | NC | |
| J53 | 2 | NC | |
| J53 | 3 | NC | |
| J53 | 4 | NC | |
| J53 | 5 | NC | |
| J53 | 6 | NC | |
| J53 | 7 | NC | |
| J53 | 8 | NC | |
| J53 | 9 | NC | |
| J53 | 10 | NC | |
SBC Lynx that supports this add-ons:
The following image shows the module dimensions:
The following images show the module layout:
The component view (top and bottom) is avalable as PDF file:
http://www.dave.eu/sites/default/files/files/XUAL_component_view.pdf
3D: http://www.dave.eu/sites/default/files/files/SBC-LYNX-with-addons_stp.zip
3D: http://www.dave.eu/sites/default/files/files/XUAL_stp.zip
DXF: http://www.dave.eu/sites/default/files/files/XUAL_dxf.zip