Power-up sequence (Lizard)
Powering is usually a delicate operation. In Lizard modules this operation has been embedded in the module and therefore power sequencing is self-contained and simplified. Nevertheless, power must be provided from carrier board, and therefore users should be aware of the ranges power supply can assume as well as all other parameters. Apart from backup supply voltage for on-board RTC, one power voltage is required (VIN). Two power schemes may be adopted:
VIN = 3.3V (Zefeer compatibility)
VIN in the range 3.6V-6V.
Scheme #1 is supported by default. In case scheme #2 is required, please contact technical support for more details.
The following table lists the requirements of power on/off cycles – also depicted in the next figure – that apply to Lizard DLxxxxxx0 part numbers:
Parameter
Min
Max
Unit
Commercial Temperature Range (0 / +70 °C)
Industrial Temperature Range (-40 / +85 °C)
Off Ramp
2
2
-
kV/s
Toff
0.3
1.2
-
s
On Ramp
12
12
-
kV/s
Voff
-
-
0.3
V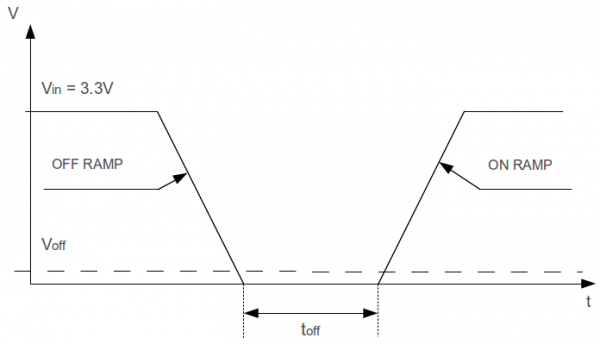 In order to simplify implementation of host board power supply unit, Lizard DLxxxxxx1 part number family has been made available. DLxxxxxx1 modules have just one requirement to comply with, and it is related to the touch controller. The following diagram shows the power up sequence requirements that must be respected in order to make sure that the TSC2003 is reset to a default working state after every power up. During the power up process, the I2C bus must be in an idle state, that is the SCL and SDA pins must be high before the power supply pin (+Vcc) ramps up to 0.9 V). The Vhigh value is 2V.