Difference between revisions of "Category:SBC-AXEL"
---
Revision as of 13:29, 21 July 2015
All-in-one Embedded Single Board Computer
[
edit
|
edit source
]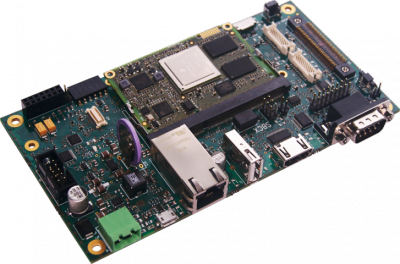 Single Board Computer is a SUCCESS STORY where DAVE Embedded Systems' capabilities have created a complete solution for those customers who want to focus on their unique added value, without investing on deep technology such us embedded linux and HW design.
The SBC platform presented here provides a compact solution for any industry and can be easily interfaced with Plant Automation Control thanks to IEC-61131 SW language environment and/or other plug-ins like QT environment or multimedia GStreamer video applications.
DAVE Embedded Systems' Single Board Computers are the perfect off-the-shelf compact ARM solutions. This hardware proposal by DAVE Embedded Systems is completed with SW solutions (SoftPLC, QT, RTOS) which permit to reduce overall system cost, and making SBCs ideally suited for deployment into a wide range of cost-sensitive and robust industrial applications.
EASY HARDWARE:

CPU: based on Freescale i.MX6 Solo/Dual/Quad core
USB Host and Device
SERIAL: RS232/422/485 and single CAN interface
ETHERNET: 1x10/100/1000Mbps
CAN: dual CAN interfaces
DISPLAY: 24bit RGB/dual LVDS interface / WIDE TM interface
VIDEO: HDMI and MIPI interfaces
TOUCH: resistive and capacitive
AUDIO: Stereo OUT and MIC in
CONNECTIVITY: Bluetooth and Wi-Fi
DIMENSIONS: 85x156mm - Standard DIN (9modules)
PSU: 12-24 VDC
Designed for industries: HMIs, SMART VIDEO devices, Digital Signage Platforms
READY SOFTWARE:

Operating Systems: Linux, Android
Software Platforms: QT, Yocto, Ubuntu
Industrial Applications: AXEL Software (LOGIC LAB IEC-61131 PLC runtime), HEMERA (Digital Signage platform)
For detailed information about SBC AXEL, please refer to the SBC AXEL article.
Please visit Web Page for more product information.
Please download it from the following link: [1]
SBC AXEL technical details
[
edit
|
edit source
]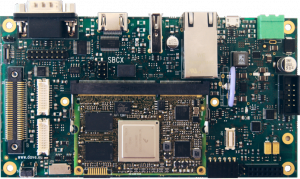 It is based on Texas Instruments Sitara digital media processor AM335x. SBC AXEL Hardware Manual provides detailed information about hardware interfaces and characteristics. This document will provide a functional overview of the module and will focus on system-related issues.
The following picture shows a simplified block diagram of SBC AXEL.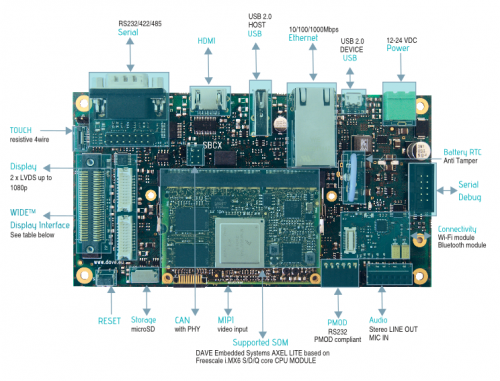 Technical Specifications
Supported SOM
DAVE Embedded Systems AXEL based on Freescale i.MX6 Solo/Dual/Quad core CPU MODULE
Power
12 - 24 VDC
Serial Ports
RS232/422/485
CAN
1x with PHY
Ethernet
1x10/100/1000Mbps
Display
24bit RGB/dual LVDS interface / WIDE TM interface
WIDE TM
Wise Interface Display Expander
RGB interface
1x24bit
SPI interface
1x
I2C interface
1x
GPIOs available
4x
PWM available
1x
Capacitive Touch
Possibility to interface multiple

PCAP solutions

TOUCH
resistive 4wire
Storage
microSD
USB
USB 2.0 Host and Device
Audio
Stereo LINE OUT and MIC IN
Connectivity
Bluetooth and Wi-Fi
Dimensions
85x156mm - Standard DIN (9modules)
BOX
Available various solutions for DIN mount or Wall mount

This category collects all the pages specific to SBC AXEL.
Pages in category "SBC-AXEL"
The following 30 pages are in this category, out of 30 total.