Category:Dido
Dido Texas Instruments DM814x/AM387x CPU module[edit | edit source]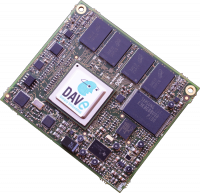 Dido is a ready-to-use CPU module family based on Texas Instruments DM814x (DaVinci) and AM387x (Sitara) Cortex-A8 high performance application processors. Dido is the first product of DAVE's Ultra Line, which includes best-in-class solutions and full featured SOMs. Dido shares the same DM814x processor with Maya (Lite Line) and Naon (Esatta Line) and is built with the same connectors format (ZFF) as Naon and Lizard (Esatta Line).
It is designed to be easily included in customer's new and existing embedded systems thanks to the inexpensive stacking connectors and pinout compatibility with  and Zefeer CPU modules.

Up to 2 GB DDR3 SDRAM
Flash NOR and Flash NAND on board
2 x USB Host, 1 x USB OTG
2 x SD/MMC
High-end Dual-CAN controller
Fast Ethernet LAN and Integrated Ethernet Switch
Display subsystem: up to 24 bit, TFT and TV out
Video Processing Front End (VPFE), 16-bit video input port
Touch Screen controller
3 x UART, 2 x I²C, 3 x SPI, 1 x I²S, 1x SATA
Small form factor: 70mm x 50mm

For detailed information about Dido, please refer to the Dido SOM article.
Please subscribe to the Dido Pages Updates RSS Feed using your favourite RSS reader to be notified on wiki pages updates related to Naon.
Please refer to the Keeping updated on Dave Developer's wiki pages modifications section for further information on how to subscribe to the RSS feed.
Please visit Dido Web Page for more product information.
Please download it from the following link: [1]
This category collects all the pages specific to Dido modules and related carrier boards.
Pages in category "Dido"
The following 37 pages are in this category, out of 37 total.