Category:BoraX
BORA Xpress XILINX Zynq CPU module
[
edit
|
edit source
]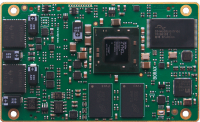 BORA Xpress is the top-class Dual Cortex-A9 + FPGA CPU module by DAVE Embedded Systems, based on the recent Xilinx "Zynq" XC7Z015 / XC7Z030 application processor. BORA Xpress offers great computational power, thanks to the rich set of peripherals, the Dual Cortex-A9 and the Artix-7 FPGA inside. BORA Xpress is designed in order to keep full compatibility with the ULTRA Line CPU modules, to guarantee the premium quality and technical value of those customers that require top performances.
Unmatched performance thanks to Dual ARM Cortex-A9 @ up to 1GHz
SERDES: Xpress lanes up to 6.25 Gbps
All memories you need: on-board NOR and NAND Flash
Enabling smarter system thanks to Artix-7 or Kintex-7 FPGA integrated on-chip
FPGA banks wide range PSU input from 1.2V to 3.3V
Highest security and reliability: internal voltage monitoring and power good enable
Reduced carrier complexity: dual CAN, USB, Ethernet GB and native 3.3 V I/O
Easy to fit thanks to its small form factor
Accurate timing application thanks to on-board 5ppm RTC
Pin2Pin Compatibility with BORA SOM based on Zynq XC7Z010/XC7Z020
For detailed information about BORA Xpress, please refer to the BORA Xpress SOM article.
Please subscribe to the Bora Pages Updates RSS Feed using your favourite RSS reader to be notified on wiki pages updates related to BORA.
Please refer to the Keeping updated on DAVE Embedded Systems Developer's wiki pages modifications section for further information on how to subscribe to the RSS feed.
Please visit BORA Xpress Web Page for more product information.
Please download the latest leaflet of BORA Xpress from the following link:[1]
BORA Xpress Evaluation Kit
[
edit
|
edit source
]
BORA Evaluation Kit BELK is a development/test board designed to start working with the BORA Xpress platform and experimenting with the implemented features.
Please refer to this page for more details.
BORA Xpress technical details
[
edit
|
edit source
]
The following picture shows a simplified block diagram of BORA Xpress module.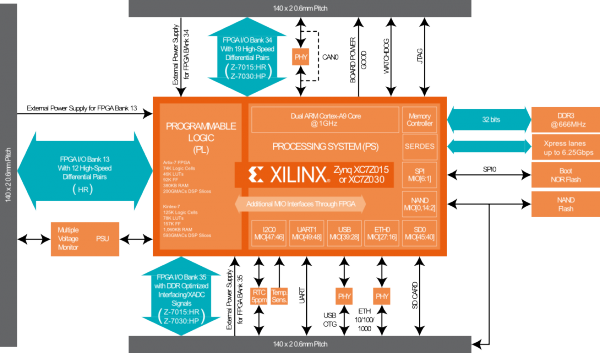 Pages in category "BoraX"
The following 54 pages are in this category, out of 54 total.