Category:AxelUltra
Axel Ultra Freescale i.MX6 CPU module
[
edit
|
edit source
]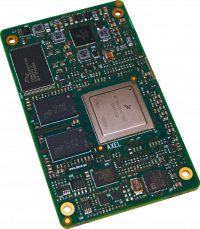 AXEL is the new top-class Single - Dual - Quad Core ARM Cortex-A9 CPU module by DAVE Embedded Systems, based on the recent Freescale i.MX6 application processor. Thanks to AXEL, customers have the chance to save time and resources by using a compact solution that permits to reach scalable performances that perfectly fits the application requirements avoiding complexities on the carrier board. The use of this processor enables extensive system-level differentiation of new applications in many industry fields, where high-performance and extremely compact form factor (85mm x 50mm) are key factors. Smarter system designs are made possible, following the trends in functionalities and interfaces of the new, state-of-the-art embedded products. AXEL offers great computational power, thanks to the rich set of peripherals, the Scalable ARM Cortex-A9 together with a large set of high-speed I/Os (up to 5GHz).
Unmatched performances thanks to Single/Dual Quad Core @ 1.2 GHz
All memories you need on-board
Boot from NOR for safe applications
Enabling massive computing applications thanks to wide range DDR3 RAM memory up to 4GB
Wide range PSU input from 2.8V to 4.5V
High mechanical retention up to 100G shock thanks to 3x140pins and 4 screw holes
Reduced carrier complexity: dual CAN, USB, Ethernet GB, PCIe, SATA and native 3.3V I/O
Suitable for Asymmetric Multicore Processing
A timing application thanks to on-board 5ppm RTC
Video encode/decode capabilities

For detailed information about Axel Ultra, please refer to the Axel Ultra SOM article.
Please subscribe to the Axel Pages Updates RSS Feed using your favourite RSS reader to be notified on wiki pages updates related to Axel.
Please refer to the Keeping updated on DAVE Embedded Systems Developer's wiki pages modifications section for further information on how to subscribe to the RSS feed.
Please visit Axel Web Page for more product information.
Please download the latest leaflet of Axel Ultra from the following link: [1]
AXEL ULTRA Evaluation Kit XELK-H-S is a development/test board designed to start working with the AXEL ULTRA platform and experimenting with the implemented features. The carrier board hosts an AXEL ULTRA CPU module and offers the following features:
  * Gigabit Ethernet LAN
  * Video MIPI
  * HDMI 1.3a
  * 2xVideo Output LVDS
  * SD/MMC socket
  * 2x USB Host 2.0
  * 1x Serial port
  * 2x I2C
  * 2x SPI
  * GPIOs
  * JTAG
  * Power supply: 12VDC
  * SATA
  * PCIe

Please refer to this page for more details.
AXEL ULTRA technical details
[
edit
|
edit source
]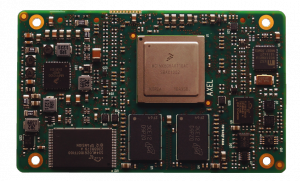 Axel Ultra is a family of system-on-modules that belongs to DAVE Embedded Systems Ultra Line product class.
It is based on Freescale's i.MX6 Solo/Dual/Quad application processor. Axel Ultra Hardware Manual provides detailed information about hardware interfaces and characteristics. This document will provide a functional overview of the module and will focus on system-related issues.
The following picture shows a simplified block diagram of Axel module.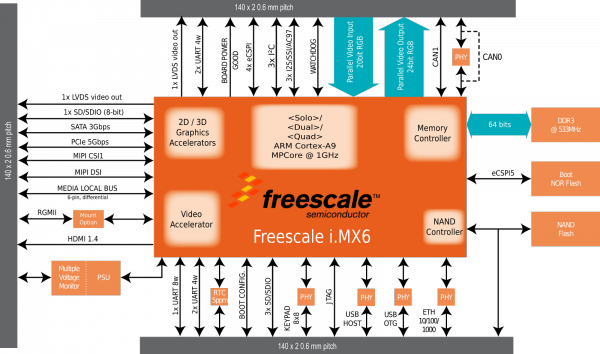 Feature
Specifications
Options
CPU
Freescale ARM MPCore Cortex-A9
i.MX6 Solo/Dual/Quad @ 1.2GHz
Cache
L1: 32Kbyte instruction, 32Kbyte data per core
L2: 1 MB unified data/instructions
RAM
DDR3 SDRAM @ 533 MHz
Up to 4GB
Storage
Flash NOR SPI (8, 16, 32, 64 MB)
Flash NAND (all sizes, on request)
Expansion bus
One PCI Express 2.0 lane with integrated PHY (5.0 GT/s Endpoint/Root Complex operations)
Table: CPU and Memories
Feature
Specifications
Options
Display subsystem
16-/24-bit HD Display Port
1x HDMI 1.3 channel + DDC
1x TFT/RGB output port
1x MIPI DSI port
2x LVDS output ports
Coprocessors
NEON™ & Single / Double Precision
Floating Point for each processor
Video input
1x 20bit video input
1x MIPI CSI port
Video processing
High performance, multi-standard VPU
Up to 1080p60 H264 decode
Up to 1080p30 H264 encode
USB
1x 2.0 Host port (PHY on board)
1x 2.0 OTG port (PHY on board)
UARTs
5x UART ports
GPIO
Up to 206 lines, shared with other functions (interrupts available)
Networks
Fast Ethernet 10/100/1000Mbps (PHY on board)
CAN
2x full CAN 2.0B compliant interfaces (1x PHY on board)
SD/MMC
4x SD/SDIO/MMC compliant controllers
Mass storage
Serial ATA II 3.0 Gbps with integrated PHY
Serial buses
5x full-duplex SPI ports with four peripheral chip selects
3x master and slave I²C interfaces
Audio
3x I²S / SSI / AC97
RTC
On board (DS3232), external battery powered
Debug
JTAG IEEE 1149.1 Test Access Port
CoreSight™ and Program Trace Macrocell (PTM)
Table: Peripherals
Feature
Specifications
Options
Supply Voltage
2.8V-4.5Vwide range input, voltage regulation on board
Active power consumption
Please refer to Power consumption section
Dimensions
85mm x 50mm
Weight
MTBF
Operating temperature
0..70 °C
-40..+85 °C
Connectors
3 x 140 pins 0.6mm pitch
Table: Electrical, Mechanical and Environmental Specifications
Please refer to Hardware Manual (AxelUltra) for detailed hardware related information on Axel Ultra SOM.
Please refer to this page for more details.
Please refer to this page for more details.
Please refer to this page for more details.
Please refer to this page for more details.
Axel Ultra provides several different resets signals. Please refer to Reset scheme for more details.
Please refer to this page for more details.
Please refer to this page for more details.
Integration guide document provides useful information and resources that allow the system designer to integrate Axel Ultra SOM in his/her application very quickly.

This category collects all the pages specific to Axel Ultra modules and related carrier boards.
Pages in category "AxelUltra"
The following 53 pages are in this category, out of 53 total.